Water Damage Restoration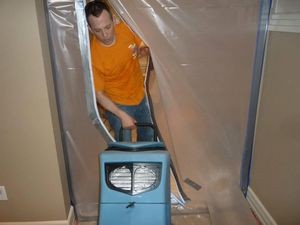 Water damage from any source is a real concern and one that Zach Cohen with 911 Restoration Los Angeles takes very seriously every day.
Zach doesn't simply want to take care of the source of your water damage troubles, he also wants to help take care of you. Always putting the customer first is a priority for every one of the technicians who works with 911 Restoration.
This is because Zach and his team know first-hand how frustrating these situations can be. "It's important to give people reassurance and peace of mind when we work on their home," Zach says. "This way they can trust us to take care of everything as though it were our own."
Los Angeles is a beautiful city, but many might not imagine it as a place with regular water damage problems due to the pristine weather. Despite this, water damage still happens here with nearly the same frequency as the rest of the country.
Fortunately for the good people of Los Angeles, Zach and his highly trained team of professionals are here and available 24/7/365 for any disaster that befalls your home or business.
Get Ready For El Nino By Preventing Water Damage
With years of experience under his belt and all the certifications the industry offers, Zach has a unique skill set that he brings to every job. His abilities can also come in handy for preventative measures as well.
"There are plenty of ways homeowners can protect their property from El Nino and its effects," Zach says.
Check your roof for any sort of damage, on both the inside and the outside. This can mean replacing lost or damage shingles, and seeing if there are any trouble spots with wet insulation inside.
Inspect gutters for wear and tear as well as clogs that may allow for spill over from the gutter to find a way inside your home.
Check the home's drainage system for anything out of the ordinary. If it looks like your sump pump needs replacing, you should do that before the storms hit.
Ensure proper runoff from your downspouts by positioning the eject valve at least five to ten feet away from the foundation of the property.
Being prepared for storms is one thing, but being prepared for the atmospheric river effects of El Nino can be something completely different, especially for those living in Southern California. If your home is in an area prone to landslides, it may be best to evacuate before the rain comes.
At the very least, you should contact your insurance representative about making sure your home is covered through a mudslide or an El Nino borne flood event, as this can save you both money and heartache with a water damage restoration down the road.
Water Damage Can Still Happen In a Drought
Much of the climate for Southern California has been in a drought for the past number of years. "Many people believe that because the reservoirs are drying up that they are safe from water damage." Zach says.
While this theory makes sense, it actually isn't true. Even in a drought there is still plenty of potential for home and business owners to be the victims of an unfortunate water damage event.
Sometimes these situations evolve from a toilet overflow. Occasionally the hoses on the water-connected appliances rupture and spew out gray water.
Other times clogs can cause a sewage backup, and even the water heater is prone to failure after a certain number of operating years.
"People underestimate the damage that these appliances can cause when they fail," Zach admits, "and that can mean much more damage than would have otherwise occurred with a little planning."
People can have their pipes scoped with the latest camera technology to look for clogs. They can replace the hoses on the appliances hooked up to water lines every two to five years. And a home's water heater should be regularly checked by a service professional to avoid any incidents.
If your home is in need of water damage restoration from a ruptured appliance water line give Zach and his crew with 911 Restoration Los Angeles a call now!