Water Damage in West Hills
When a pipe bursts in the middle of the night, flooding your property with gallons of water, it's easy to feel helpless, overwhelmed, and completely alone. But even at 2:00 in the morning, you're just one call away from a friendly voice and emergency water damage restoration in West Hills. The highly experienced crew at 911 Restoration of Los Angeles are standing by, ready to provide emergency flood cleanup in West Hills and the surrounding area. Water damage restoration workers will be on the scene in no more than 45 minutes. That's a guarantee. Call us at 310-421-2014 and allow us to provide you with a free visual inspection.
Fast, friendly service is all a part of the 911 Restoration mission to provide our neighbors with peace of mind and real solutions in the midst of a pipe burst or any other water-related disaster. Our flood cleanup experts think of everything to make recovery complete and painless, including a free insurance consultation. They work with all kinds of insurance and a staff member will sit down with you to clarify your coverage. You go into the water damage restoration process already knowing which services your provider will pay for, from sewage extraction to mold remediation. They also assist with your paperwork and handle direct billing, so you don't even have to think about the costs you are not responsible for.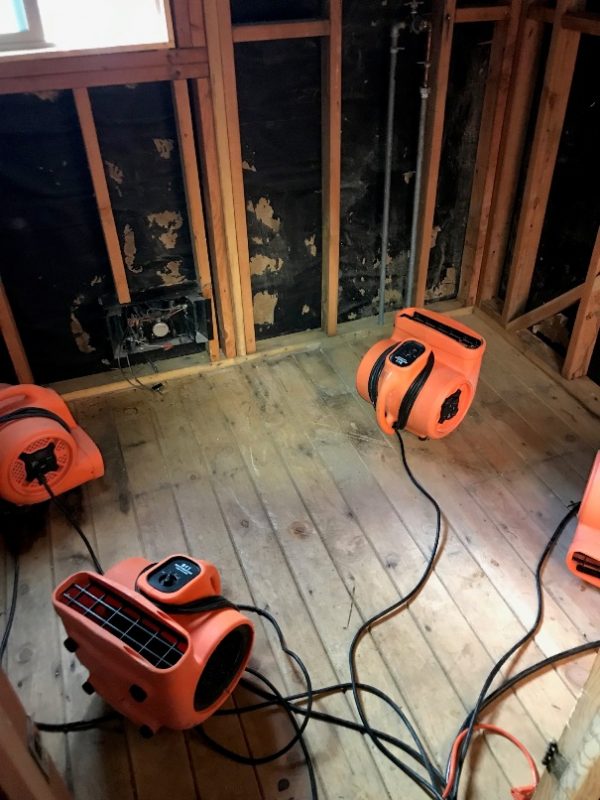 911 Restoration of Los Angeles is locally owned and operated around the philosophy that every disaster is a Fresh Start in disguise. This means the mold removal and water damage experts in West Hills take every step necessary to solve your problem and rebuild so you're left with a property that feels even better than new. Many property owners wonder if their home or business will be the same after water damage. If you call 911 Restoration, the answer is: No, it won't be the same. It'll be better.
For the very best in mold removal service and water damage repair in West Hills, call 911 Restoration of Los Angeles today at 310-421-2014.
Water Damage Restoration in West Hills
From pipe bursts to sewage backups to mudslides, there are countless reasons why West Hills properties are at risk of water damage. On the plus side, the flood cleanup crew at 911 Restoration has vast experience with flood damage restoration in West Hills, and they can handle any disaster you throw their way.
Do you need emergency roof repair? Water, mud, or sewage extraction? Boarding up? Leak detection? Storm repair? Whatever service your unique emergency calls for, the team at 911 Restoration is on it. They work with speed and precision, treating your property as if it were their own and even packing out and storing your belongings to keep them safe throughout the cleanup process. The water damage restoration experts dry and sanitize the affected area completely, then test the structure to ensure it's still sound after your pipe burst or other disaster.
And if they find a problem? The flood cleanup crew handles all repairs themselves. It doesn't matter if the issue is with your roofing, your drywall, or your floors. These experts do it all so you don't have to deal with the burden of tracking down another contractor. And once the repairs have been completed, they continue safeguarding your property with a thorough mold inspection and any necessary mold decontamination.
For any property and any incident, you can count on 911 Restoration of Los Angeles for compassionate, comprehensive service. Don't waste another second worrying. Call now at 310-421-2014.
Safe, Reliable Black Mold Removal in West Hills
Worried about the possibility of a black mold infestation after a pipe burst? Or do you suspect you already have toxigenic growth creeping over your walls, never mind how it got there?
Don't worry. Help is on the way. Just call 911 Restoration of Los Angeles.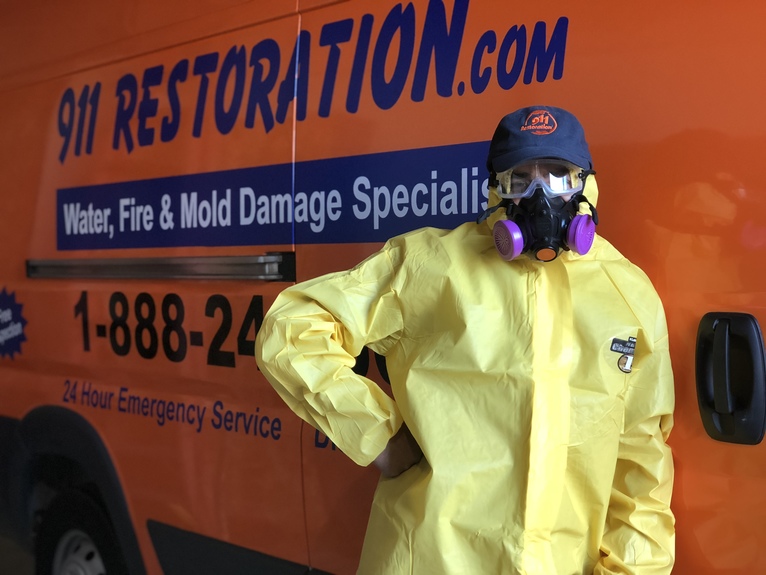 The mold remediation crew at 911 Restoration has undergone extensive training to conduct toxigenic mold removal in the safest and most effective way possible. If you see a suspicious growth in your house, stay away from the colony, do not attempt mold removal yourself, and call our mold remediation crew to conduct a complete mold inspection.
The team examines your entire property during their mold inspection, making sure spores from the black mold infestation didn't spread to dark, hidden corners and create new colonies. Once the crew is satisfied that their mold inspection has uncovered every area of contamination, they implement cutting-edge techniques and tools to handle mold removal with the utmost caution. They take great care to eliminate the colony completely without spreading excess mycotoxins through the air you breathe. Once black mold removal is complete, they dehumidify the structure to discourage future growth.
Even if you believe your mold infestation is not toxigenic, you should still turn to 911 Restoration for immediate mold removal. Every species carries a risk to your health and property, and prompt mold remediation is your best defense against long-term damage.
Call 911 Restoration of Los Angeles today and breathe easy. Our phone number is 310-421-2014.
Servicing the cities of Alhambra, Altadena, Arcadia, Avocado Heights, Azusa, Baldwin Park, Bell, Bell Gardens, Bellflower, Beverly Hills, Burbank, Calabasas, Canoga Park, Cerritos, Claremont, Commerce, Covina, Culver City, Cypress, Diamond Bar, Downey, Duarte, East Los Angeles, El Camino Village, El Monte, El Segundo, Encino, Florence-Graham, Gardena, Glendale, Glendora, Granada Hills, Hacienda Heights, Hawthorne, Hermosa Beach, Huntington Park, Inglewood, Irwindale, La Canada, La Mirada, La Puente, La Verne, Lakewood, Lawndale, Los Angeles, Lynwood, Malibu, Manhattan Beach, Marina del Rey, Maywood, Mission Hills, Monrovia, Montebello, Monterey Park, North Hills, North Hollywood, Northridge, Norwalk, Pacific Palisades, Pacoima, Panorama City, Paramount, Pasadena, Pico Rivera, Playa del Rey, Pomona, Porter Ranch, Reseda, Rowland Heights, San Dimas, San Fernando, San Gabriel, San Marino, Santa Fe Springs, Santa Monica, Sherman Oaks, Sierra Madre, South El Monte, South Gate, South Pasadena, South Whittier, Studio City, Sun Valley, Sunland-Tujunga, Sylmar, Tarzana, Temple City, Thousand Oaks, Tujunga, Topanga, Universal, Van Nuys, Valley Village, Venice, Walnut, West Covina, West Hills, West Hollywood, Whittier, Winnetka, Woodland Hills, and surrounding areas.