Sewage Backup Cleanup in Los Angeles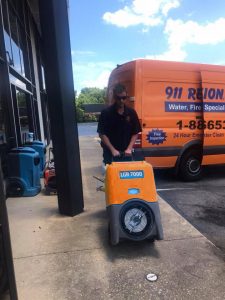 Property owners in Los Angeles areas know just how lucky they are to live and work in an area so beautiful. However, sometimes issues can arise that make your residential or commercial property stink, literally and figuratively. Experiencing a sewage backup in Los Angeles or toilet water overflow can cause more than just property damage. It can also be extremely dangerous to your health and the health of those around the property. The sewage cleanup experts at 911 Restoration of Los Angeles are highly trained to remove the hazards and repair any damage that has occurred. Please call us at 310-421-2014.

Contrary to popular belief, sewage water is not an issue that should be dealt with by anyone who hasn't received the necessary training. There's no way to tell what type of water you are dealing with unless you have extensive knowledge or experience with these situations. So, as soon as toilet water damage occurs, contact 911 Restoration of Los Angeles. We know the importance of responding quickly to water damage situations, so our office is open 24/7, 365 days per year. You can reach us at 310-421-2014. The highly trained IICRC techs will arrive on site within 45 minutes of your call and provide a free visual inspection for property owners only.
During the inspection, the techs will assess the property damage. During this assessment, they will determine what caused the sewer backup in Los Angeles or toilet water damage. From there, the necessary water cleanup services will be given. When it comes to sewage backup it's important to know that each situation is unique and will require its own specific restoration services. These services will be determined by discovering the cause of the blockage. Sewage blockages are commonly caused by:
     

Misaligned joints

     

Root infiltration

     

Grease buildup

     

Soil settlement

     

Items that have been flushed down the drain
The highly trained IICRC technicians have the necessary tools and equipment needed to remove the water from your property. The techs will remove all contaminated furnishings, flooring and any other surfaces that have been damaged by the backup. Once the sewage and contaminated items have been removed, the sewer backup cleanup experts in Los Angeles will begin ventilating and drying the affected area. Once the area has finished drying, your property will be sanitized in order to prevent the spread of microbes which can cause diseases.
Our number one priority during sewage backup situations is your safety. Rather than attempting sewage clean up on your own, contact the experts at 911 Restoration of Los Angeles. The techs will work endlessly to provide a Fresh Start for you and your property.
Call 911 Restoration of Los Angeles at 310-421-2014 to receive quick and efficient sewage restoration services!
A Sewage Backup Restoration Company You Can Rely On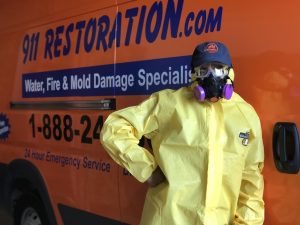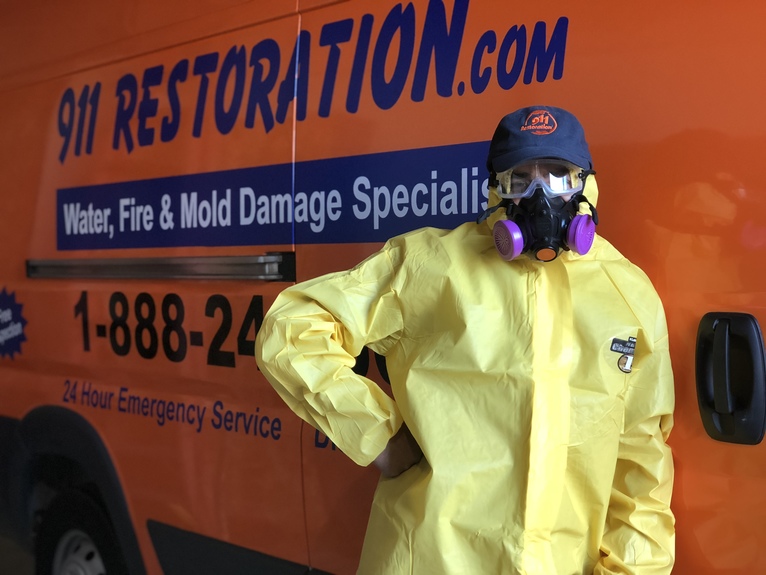 When it comes to toilet water damage and sewage backup, not all water is created equally. Every water damage situation is unique and should be treated as such. In order to determine how it should be treated, the techs will first determine what type of water damage you have on your hands. Water damage can typically be classified into three different categories: clean water, gray water and black water.
Clean water

commonly includes rainwater or water that has come from a pipe burst. This type of water damage is safe to touch. However, if the water is not removed within 48 hours it has the potential of becoming gray water.

Gray water

is usually slightly contaminated and needs to be treated by professionals. Common items that cause gray water can include: dishwashers, sinks, washing machines and showers. The bacteria found in gray water is not as dangerous as black water. However, if gray water damage is not treated quickly, it can become black water.

Black water is highly contaminated and contains harmful chemicals. Therefore, it is essential to call the water damage experts at 911 Restoration at 310-421-2014 if your property has been affected by black water. Sewage water is considered black water and contact with it can lead to serious illness.
It can be hard to determine what kind of water you are dealing with. Rather than risk it, contact 911 Restoration of Los Angeles. This will help you get the water damage cleanup services you need, but more importantly it will ensure your safety. If you are in need of sewage restoration, call 911 Restoration at our phone number 310-421-2014.

Water Cleanup Company That Provides A Fresh Start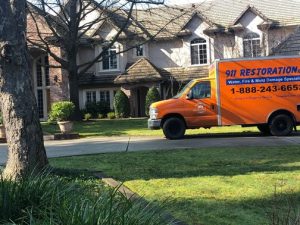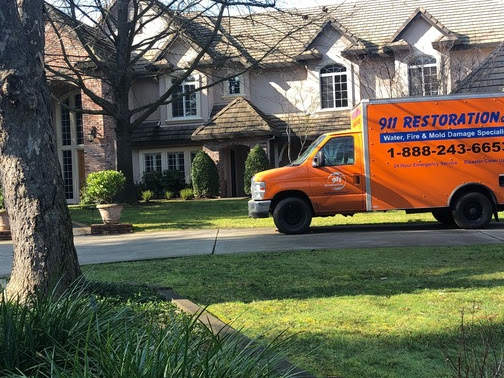 At 911 Restoration of Los Angeles, we truly want to offer residents and business owners in our area the best restoration services in the industry. We strive to go above and beyond by keeping our doors open 24/7, 365 days per year and answering each call no matter the time of day here; 310-421-2014. We also provide water damage services at an affordable price, we work with all insurance companies so that financials are the least of your worries.
To help make this stressful time a little easier, we will work with you to fill out your insurance claim to help ensure a seamless process. Due to our extensive knowledge and experience in the field, the restoration experts in Los Angeles know what information your insurance representative needs in order to cover the damage. We recommend that you reach out to your insurance provider as soon as the damage is discovered so your claim can be processed as quickly as possible.
Get the Fresh Start you deserve from a restoration company who truly cares! Contact 911 Restoration of Los Angeles today, we are available all hours of the day and can be reached at 310-421-2014.
Serving the communities of Beverly Hills, Calabasas, Porter Ranch, Reseda, Valley Village,  Canoga Park, North Hollywood, Northridge, Santa Monica, Van Nuys, West Hills, Northridge, Santa Monica, Sherman Oaks, Winnetka, Encino, Woodland Hills, Granada Hills, Pacoima, Studio City, Los Angeles, Panorama City, Tarzana and surrounding areas.