Water Damage in Los Angeles
Weather Alert: If you are experiencing weather-related damage from the storm, call us today for emergency assistance!
911 Restoration of Los Angeles – Water Damage Experts
Whether it's fire, water damage, or mold, you can't afford to waste a second when disaster strikes. Fortunately, 911 Restoration of Los Angeles is available 24/7/365 for every one of your disaster restoration needs. Our crew is IICRC certified, highly trained, and can be at your property within 45 minutes to provide emergency service. Whether you need fire damage restoration, water extraction, mold remediation, sewage backup cleanup, or disaster restoration, the technicians at 911 Restoration do it all. They serve you with compassion, working diligently to ensure that today's disaster is tomorrow's Fresh Start. Call us at 310-421-2014 and allow us to offer you a free visual inspection.

911 Restoration of Los Angeles is backed by the resources, experience, and insight of a nationwide restoration company. With locations all throughout North America, 911 Restoration has built a reputation for caring customer service and full-service restoration. The company is licensed, insured, and bonded.
When you choose 911 Restoration, you can be certain your dedicated restoration technicians work with your best interests in mind. As a locally owned and operated business, we value you as a neighbor and recognize that an investment in you is an investment in the community. Whether it's water damage restoration or smoke removal, these professionals take every measure to ensure your property disaster is solved and your home or business is restored to better-than-ever condition with damage repairs, renovation, and preventative services. They even offer a free visual inspection for property owners and a free insurance consultation, so you know exactly what to expect in the restoration process.
They work with all types of insurance and take on the burden of filing your claim for you, so you can pursue property restoration with as little stress and expense as possible.
When it comes to water damage restoration, fire damage restoration, mold remediation, disaster repair, or any other property restoration needs, 911 Restoration of Los Angeles is more than a cleanup company. We're an ally.
At 911 Restoration of Los Angeles, we offer a Fresh Start with our comprehensive selection of property damage restoration services, including but not limited to:
Whether you're a Los Angeles homeowner or business owner, 911 Restoration of Los Angeles is your Fresh Start! We'll communicate with you throughout the entire process, help answer questions related to insurance, and restore your property to its pre-damaged condition. One of our IICRC-certified teams is dispatched within 45 minutes of your call! Contact us today, and one of our friendly representatives will assist you in finding the nearest Los Angeles location.
Call now at 310-421-2014 for the service you deserve.
Water Damage Restoration in Los Angeles
Whether it's a slow ceiling leak, a dramatic pipe burst, or a full-blown property flood, water damage in Los Angeles can be devastating. And without an immediate response, the damages can be severe. Fortunately, you can always count on 911 Restoration to respond urgently to water damage in Los Angeles and the surrounding areas. Call us at 310-421-2014 and allow us to offer you a free visual inspection.

The water damage restoration technicians arrive on the scene within 45 minutes of your call, no matter what. Day, night, weekends, holidays…no matter when you call, they'll be there. They immediately set to work with whatever emergency service you may need, whether it's water extraction, roof or storm repair, or leak detection. They even pack out and store any belongings that may be in harm's way to help minimize the damages.

The flood cleanup crew also brings in professional tools to thoroughly dry and dehumidify the structure of your property. This step is essential to preventing mold growth and sparing you the cost of mold remediation later on. However, an infestation may be unavoidable, depending on the extent of your water damage. In cases such as these, 911 Restoration still has you covered. Your flood cleanup workers are also certified mold specialists, and they conduct a thorough mold inspection and mold removal.

Once all traces of water and mold have been eliminated, the water damage staff even handles repairs for any surfaces that have been destroyed. Whether it's your roof, your drywall, or your carpet, this crew is prepared to fix the damage and make your home or business new again. For caring, comprehensive service, let 911 Restoration of Los Angeles be your go-to. Call us now at 310-421-2014 and see how we can help.
Service area map
Sanitization Services and Disinfection Solutions
The number of cases of Coronavirus is growing more and more each day. With more testing becoming readily available the list of cases will keep growing. At a time like this, cleanliness, personal hygiene, and proper sanitization are more important than ever before. The two guidelines that have to be followed are: Stay isolated & stay clean and don't infect others if you are sick.
In our current times, retail businesses and other commercial establishments are suffering massive losses and even closures due to the virus. As a result, 911 Restoration of Los Angeles is now offering sanitization services to fully deep clean your property. Our IICRC-certified technicians are fully trained to clean your business property or residential home and will follow all CDC and EPA guidelines. We understand that at a time like this, peace of mind is key. Let us give you that by sanitizing your property the right way. Call us at 310-421-2014.
Mold Removal
Mold is unsightly, damaging to your property, and harmful to your health. If you need mold remediation in Los Angeles or beyond, you need 911 Restoration.
The mold removal technicians conduct a complete mold inspection to track down mold wherever it's hiding. Because mold thrives in dark spaces, you need certified mold remediation experts who understand the behaviors and telltale signs of an infestation. When the technicians discover a colony, they sample the infestation for professional testing. 
The mold decontamination process varies depending on the type of mold growing in your property. Your mold removal workers are careful to eliminate the growth completely while preventing the release of an excess of spores and mycotoxins. After removal, they use professional tools to dehumidify the structure where mold was found, preventing future growth. Finally, your mold remediation crew comes prepared to handle any necessary repairs. 
Mold can make a peaceful property feel unpleasant and contaminated. Let the experts at 911 Restoration transform your home or business into the refuge it once was.
Sewage Backup Cleanup
A sewage backup is a property owner's nightmare. In addition to the potential damage to your property, sewer water threatens your health by bringing harmful bacteria and parasites into your home or business. 911 Restoration of Los Angeles understands that sewage cleanup is always an urgent need. You can count on these technicians to respond to your emergency as if it were their own.
Sewage cleanup workers arrive at your property in no more than 45 minutes. In the meantime, it's important that you keep all humans and pets away from the contaminated area. They set to work immediately to extract the sewage and completely sanitize the affected area. After cleanup is complete, they bring in professional fans to dehumidify your property. Prompt dehumidifying helps prevent mold growth. However, mold colonies can form quickly. Because of this, our sewage cleanup crew also conducts a mold inspection to ensure your property truly is decontaminated.
From the moment they arrive, the sewage backup cleanup staff is concerned with one thing: your peace of mind. This means providing an urgent response time, expert service, clear communication, and full property repairs. You may be looking at a terrible disaster, but 911 Restoration sees an opportunity for a Fresh Start. Call us today at 310-421-2014 and breathe easy.
Fire and Smoke Damage Restoration
Whether it's a property fire or a puffback, smoke, and fire have a devastating effect on the property you've put your heart and soul into. The good news is that getting back on your feet is easier than it seems. All you need is compassionate service from true fire damage cleanup experts.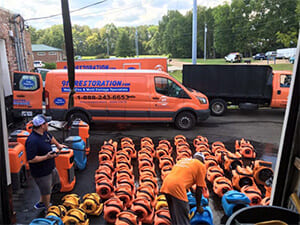 The fire damage restoration crew at 911 Restoration of Los Angeles are trained to manage literally every aspect of fire and smoke repair. They use soda blasting to clean ash, soot, and smoke from the surfaces of your home or business. The fire damage workers clean everything from furniture to dishes. They repair every damaged structure, replace all destroyed surfaces, and make your property feel brand new with permanent odor removal. If your property has been flooded by fire hoses, they take care of water damage restoration as well. And if that water damage led to a mold infestation, they have you covered with expert mold remediation.
If you're staring at the destruction of the refuge that once was, rest assured that this loss is only temporary. 911 Restoration of Los Angeles will make your property even better than new, and we'll even take the stress of insurance paperwork off your plate. We know what you're going through, and we're eager to help. Call today at 310-421-2014.
Disaster Restoration
Los Angeles is undoubtedly a wonderful place to live and work, but it's not without its downsides. Whether your property is in Thousand Oaks, Glendale, or any other Los Angeles community, it's vulnerable to a host of natural disasters, including wildfires, landslides, mudslides, floods, and earthquakes. 
When disaster strikes, 911 Restoration of Los Angeles is ready. We can remove anything, clean anything, and repair any structure, surface, or material. Just as important, they work with compassion and genuine investment in your peace of mind. They even offer insurance assistance, helping you with inventory and loss itemization. They file your claim for you and bill your provider directly.
Commercial Restoration
In addition to damage remediation services for homeowners, 911 Restoration of Los Angeles also provides all of the above services for commercial property owners. Our technicians understand how important it is to get your business back up and running after a disaster. 
Disaster doesn't wait for a convenient time to strike. That's why we're available 24/7/365 to mitigate whatever damages your property has undergone. Our technicians are experienced. They will provide water damage restoration, mold remediation, sewage cleanup, fire and smoke removal, and any other type of disaster that hits your business.
No matter what disaster life brings, 911 Restoration of Los Angeles is here to give you a Fresh Start!
Call us today at 310-421-2014 and let our disaster restoration workers take every burden off your shoulders.
Serving the communities of Beverly Hills, Calabasas, Porter Ranch, Reseda, Valley Village,  Canoga Park, North Hollywood, Northridge, Santa Monica, Van Nuys, West Hills, Northridge, Santa Monica, Sherman Oaks, Winnetka, Encino, Woodland Hills, Granada Hills, Pacoima, Studio City, Los Angeles, Panorama City, Tarzana and surrounding areas.