Mold Removal in Los Angeles
For home and business property owners living in Los Angeles, mold is always an unwanted guest and professional removal is the best option. But this pesky fungus can creep into your building in a sly manner, taking up residency in your walls and ceiling. Before you know it, you can have a full-blown mold infestation on your hands.
If your building has mold, it's time to call in the mold remediation specialist in Los Angeles. 911 Restoration of Los Angeles can swiftly and effectively remove all mold spores from your home or office, making it safe and secure again. Our licensed, bonded, and insured team is also IICRC certified, making them experts in the mold inspection, cleaning, and restoration industry.
Call us today at 310-421-2014 to solve all of your mold removal woes!
Swift Mold Removal Services in Los Angeles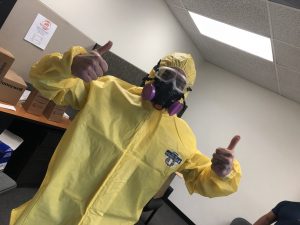 Mold is a fungus that grows in fuzzy brown, black, or yellow patches and is accompanied by a musty odor. Moisture is the lifeblood of mold, giving it the ability to spread and flourish in dark, stuffy nooks and crannies. Mold can start growing within 48 hours after a ceiling leak or burst pipe floods your property. Since timing is everything when it comes to a mold infestation, you need to contact a mold removal company that can provide prompt services. That's where 911 Restoration comes into play. We will show up to your location within 45 minutes of your initial phone call. Whether you're located across the street or across the county, our Los Angles team is ready to provide immediate mold removal services in Los Angeles day or night. We're available 24/7/365 for all of your mold removal needs. Call us at 310-421-2014 we will always answer your phone call.

Even though mold exists organically and is actually helpful outdoors, indoor mold can cause a myriad of problems. Actively growing mold will eat away at the surfaces it lives on, causing structural damage to your home or business property. Additionally, mold can cause health issues in people with asthma or allergies, including sneezing, coughing, and upper respiratory infections. Mold that grows in homes, schools, or business needs to be dealt with immediately for the sake of human health, the structural integrity of your building, and for your quality of life. 911 Restoration can handle this problem in a heartbeat's time and will get your life back to normal again.
Other benefits of working with us include:
A free visual mold inspection for property owners only

Third-party lab mold testing

Pro mold sampling and inspecting

IICRC-certified

And much more!
Water Damage Restoration with a Caring Touch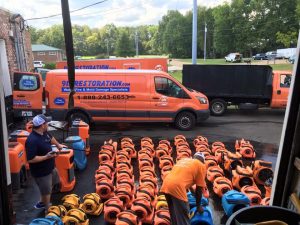 If you have a mold problem, chances are high that you've had water damage strike your building. Whether through natural causes such as a severe storm or man-made ones, such as an overflowing toilet, water damage can wreak havoc on your possessions within mere hours of the initial flood. If not dealt with in a timely manner, water damage can cost you lots of money, and even be harmful to your health.
911 Restoration is there for you when you need us the most. We provide professional water damage restoration to the folks in Los Angeles and the surrounding areas. Not only are our surfaces swift, but they're also sympathetic. We put each and every one of our customers at the center of our focus. During a crisis, we know that you can feel scared, anxious, and even angry. Our empathetic team is there to lend you a shoulder to lean on when you need it the most. Our "fresh start" approach helps us show you the light at the end of the tunnel.
We recently got called to the home of a mother with a flooded basement. She was terrified that the water would cause an unsafe environment for her children. We got to her home within the hour and started water damage restoration work right away. We were there for her from start to finish, even working with her insurance company to get her the best coverage possible.
If your home or business property has been affected by a flood and you need water damage restoration, call 911 Restoration of Los Angeles right away. We're here for you when times get tough. We'll be at your door within 45 minutes and are available around the clock. Don't delay the process any longer. Call our water damage restoration experts immediately at 310-421-2014!

Serving the communities of Calabasas, Valley Village, Encino, Granada Hills and surrounding areas.