Water Damage Restoration in Los Angeles
Whether it's from a natural disaster such as a severe storm or a man-made one, like a burst pipe or ceiling leak, flooding in the home can wreak havoc on your personal possessions, and your life. Thankfully, Los Angeles residents can obtain the swift services of industry experts when they call 911 Restoration of Los Angeles. We're available 24/7/365 and can be at your doorstep within just 45 minutes of your initial phone call. Our team of seasoned IICRC professionals have decades of water damage restoration services and are here to offer you swift, sympathetic, and resourceful services during your time of need.
Water Damage Restoration Services with a Personal Touch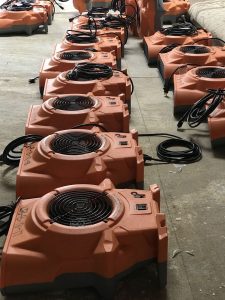 911 Restoration of Los Angeles is here to fix your water damage woes. We tackle every water damage restoration job with the same tenacity, no matter how big or small the problem might be. We know that time is of the essence when it comes to water damage and that's why our services are super speedy.
Within mere hours, water can stain your walls, furnishings, and be absorbed into carpets and drywall. Within just days, mold can start to grow. If your home or office has experienced a flood, you cannot sit on the problem. The time to get help is now!
Call 911 Restoration and we'll be at your location within the hour. Whether you're down the street or across the county, our expert techs will be at your location promptly. We'll begin the water damage restoration process right away, while offering you support and sympathy during the entire process.
Our "Fresh Start" approach helps us to help you. We're in the business of treating people with respect and attention during their darkest hour, and we're your shoulder of support during this tough time. 911 Restoration understands that seeing your home underwater can invoke feelings of fear and anger. This is why we'll help you to see the silver lining of this dire situation. You're at the center of our focus during this time of crisis, and we'll help you get back to normal and start a brand new chapter of your life.
Some other benefits of working with us include:
A free visual inspection for property owners only

Emergency roof and burst pipe repairs

Testing and evaluating the structural damage of your home

Leak and detection repair

Complete water extraction

Total drying and dehumidifying of all surfaces

And much more!
If your property has suffered from flooding and you need water damage restoration services with a personal touch, contact us today!
Mold Removal Services in Los Angeles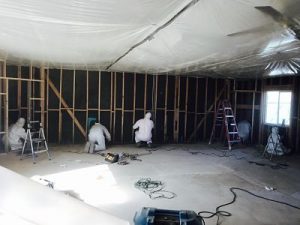 Has your property suffered from water damage? You may also have an unwanted guest lurking within your walls. Mold loves moisture and thrives in dark, wet places where water damage has occurred. If you experienced flooding, you may have this pesky fungus growing within your walls and ceiling.
While mold is helpful in its natural environment, it can cause a mess when it grows indoors. Mold eats away at any surface it grows on, putting your home's structural integrity at risk. It also can cause a plethora of health concerns, including sneezing, upper respiratory infections, coughing, and heighten allergy or asthma symptoms.
We recently worked with a family who thought they had mold in their home. They were petrified that their kids would be exposed to this hazardous fungus. Our IICRC-certified team was able to get to the location within just 45 minutes and start thoroughly testing for mold. Once we found the exact location of the infestation, we performed effective mold removal services. Our team made that family's home safe and secure again. We worked with the family throughout the entire process to provide them the peace of mind they needed during this scary experience.
If you are in need of mold removal services, contact 911 Restoration of Los Angeles today. We'll come to your property and test for mold. We'll also send off the samples to third-party labs for testing to find out just what type of mold it is.
From water damage restoration services to mold testing and mold removal, 911 Restoration is in your corner. We want to provide you with amazing services to help you return to normal again. Contact us today if your home or commercial property has experienced flooding. We'll be there within 45 minutes or less!