Water Damage Restoration in Los Angeles
When it comes to water damage emergencies and house flooding cleanup in Los Angeles – we know disasters don't wait. Whether the cause of unexpected weather or a pipe burst, water damage can happen at any time.
While experiencing a disaster on your commercial property or house is a nuisance. It doesn't have to be when you can rely on our emergency services restoration to come to your rescue. 911 Restoration of Los Angeles covers all surrounding areas. What's the best part? Our expert team will be there within 45 minutes at the scene of your call – 24/7/365 days a year. Call us at 310-421-2014 and allow us to provide you a free visual inspection.

Now that's what we call a "Fresh Start!" So say "goodbye" to your house flooding and say "hello" to our water damage restoration service!
Water Damage Restoration Services in Los Angeles With a Fresh Start
We understand how devastating flooding disasters can have an impact on your life. We believe each of our customers deserves a "Fresh Start" no matter the impact of the damage. While water damage doesn't have to stop you from doing your everyday tasks, we've got you covered. We mean it!
When you work with 911 Restoration of Los Angeles – we assure urgency, professionalism, and support every step of the way. With you and your water damage problems as our top priority, we stay laser-focused to rectify the situation quickly. Call us at 310-421-2014 and see how we can help.

Once our trained professionals arrive at the scene, expect: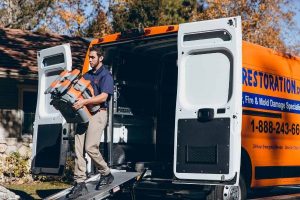 Complete evaluation of problem sources

Advanced technology for cleanup and preventing mold growth

Extensive water damage service in Los Angeles and drying of all affected areas

Full inspection to detect repairs

Mold decontamination and much more with nothing but high-quality service
Have no worry because our water damage restoration experts in Los Angeles will guide you every step of the way. It begins with a thorough flood cleanup with our latest technology to ensure everything's dry. Then our trained staff will inspect every square inch of damages. They also identify potential problems like indoor mold growing in walls. Our inspection process includes an in-depth mold and water damage assessment to guarantee we miss nothing.
Our professionals won't leave you confused with any problem unsettled. Our seasoned staff with years of experience will be there to offer the best possible solution.
Mold Removal Services in Los Angeles
It's important to take action on water damages quickly because bigger problems can arise if left untreated. The longer you leave your water damage cleanup and indoor mold to worsen, mold removal cost will go up. Thus don't overlook your water damage as a simple task. Mold can cause serious health problems and introduce building risks to inhabitants. What's even scarier is indoor mold can be an invisible problem you never notice to the naked eye.
What causes the growth of indoor mold on the wall in your house or building?
Water damage

Flooding from burst pipes or weather

High moisture

Insufficient ventilation

Old building material
We train our Los Angeles mold removal experts to detect indoor mold problems as top professionals in the industry. Through comprehensive water damage inspection and elimination – it is our full obligation to tackle the problem. Our mold experts inspect every square inch of your water damaged property for signs of mold risk. This will help prevent future growth of mold to stop it in its traces.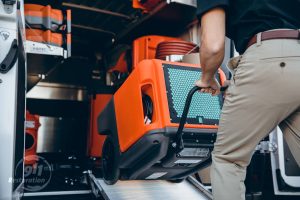 The severity of water damage leaking through cracks and holes causes ambiguity. This is why it is not recommended to fix flooding and water damages yourself. Just because everything is dry on the spot doesn't mean you cleared all potential issues like mold. Why risk your property and wellness for potential problems that may arise in the future? You'll be spending more money and headaches for troubles that were never remediated.
So have peace of mind with our mold experts who can tackle the root cause of all your mold decontamination issues.
Why Work With 911 Restoration As Your Los Angeles Water Damage Restoration Company?
Our "Fresh Start" approach ensures you receive nothing but the best customer service you deserve. And we live up to our mission of providing the best customer experience and a better future. That means we're not gone till your problem is.
Our staff are

IICRC-certified

experts in their field to get the job done with quality work

We're by your side 24/7 whenever you need us within 45 minutes of your initial call

Fast service ensures you get back to your normal routine quickly
It's not only our goal to dry your property through flood cleanup. It's also our goal to leave your dwelling in a state nothing short of perfect.
We also have more specialties on top of water damage repair, flood cleanup, and mold removal.
Fire damage restoration

Mold inspection

Mold decontamination

Sewage backup cleanup

Water damage inspection
At 911 Restoration of Los Angeles, you can ensure we'll be there for you to get the Fresh Start you deserve. Guaranteed. Our phone number is 310-421-2014 and we are on stand by for you.

Serving the communities of Beverly Hills, Calabasas, Porter Ranch, Reseda, Valley Village,  Canoga Park, North Hollywood, Northridge, Santa Monica, Van Nuys, West Hills, Northridge, Santa Monica, Sherman Oaks, Winnetka, Encino, Woodland Hills, Granada Hills, Pacoima, Studio City, Los Angeles, Panorama City, Tarzana and surrounding areas.