Water Damage in Van Nuys
When a pipe bursts in your business or a storm floods your house, you need someone who will answer when you call and can be there in an instant. That someone is 911 Restoration of Los Angeles, your go-to for mold remediation and emergency flood cleanup in Van Nuys and the surrounding area.
The phone lines at 911 Restoration are open 24/7/365, which means you get help the moment you need it, even if you call in the dead of night or at noon on a holiday. Just as important, highly trained water damage restoration technicians are guaranteed to be at your door in 45 minutes or less, so you're not left anxiously watching the clock as water seeps into the foundation of your property. Call us at 310-421-2014 and allow us to provide you with a free visual inspection.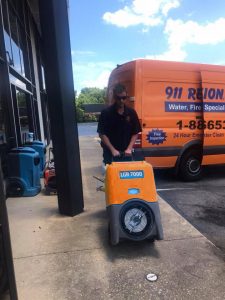 As dry as the San Fernando Valley can be, not even Van Nuys is safe from both run-of-the-mill pipe bursts or sewage backups, or even flooding from the heavy rainstorms of winter. In any disaster, the flood cleanup crew are determined to provide their neighbors with the highest quality of service and leave you with a property that feels as new as the day you first moved in. Consider this our Fresh Start promise. Come to our water damage restoration staff with a disaster, and they'll turn it into an opportunity to rebuild better than before.
The flood cleanup crew understands the stress you're under after a pipe burst or other water incident, especially when it comes to expenses. They do all they can to deliver immediate peace of mind, including providing a free insurance consultation so you can clearly understand exactly which services your provider has promised to cover, from water extraction to mold decontamination. Then, just to be sure you get every benefit to which you are entitled, a staff member assists with loss itemization, files a claim on your behalf, and bills your provider directly so the entire matter is out of your hands. 
A water incident is always stressful, but fortunately, there's only one thing you need to do to relieve that stress. Call 911 Restoration of Los Angeles at 310-421-2014 and turn every concern over to us.
Sewage Backup Cleanup and Water Damage Restoration in Van Nuys
Do you own a commercial or residential property? Have you been struck with a sewage backup, a pipe burst, or a natural disaster? Is it currently business hours or the middle of the night?
Whatever the answers are, your best option for a quick recovery is the same. Call 911 Restoration of Los Angeles and a crew of IICRC certified water damage restoration experts will be there for you in 45 minutes or less.
No matter what you need, the flood cleanup technicians have you covered. They handle emergency boarding up, roof repair, storm repair, leak detection, toilet water backups, water extraction, and structural drying. They work at top speed to minimize your damage, because every second water is left to seep into your floors and walls is a second too long. If your water incident is so extensive that damage can't be avoided, no worries. The water damage restoration crew can take care of any repair, no matter the structure or material. Need new roofing? Need that contaminated carpet removed? Should your rotting drywall be replaced? Warped floorboards torn out? No matter what it is, these workers can handle it.
They even conduct a comprehensive mold inspection to make sure your pipe burst hasn't led to a fungal attack on your property. And if they discover an infestation, they handle mold removal swiftly, safely, and completely.
When you call 911 Restoration of Los Angeles, you get more than water removal. You get a Fresh Start. Don't delay—call now for excellent service and compassionate customer care. Our phone number is 310-421-2014.

Your Reliable Mold Removal Experts
Never underestimate the power of mold. As harmless as it may seem, an infestation eats away at the structure of your home. It releases harmful particles in the air that can cause anything from allergies to heart problems if the infestation is left to thrive without expert mold remediation. Not to mention, a mold colony is unsightly and can taint your home or business with a mildew odor.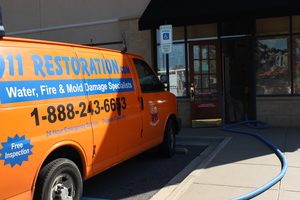 Whether you know you have a growth on your property or you only suspect you do, you can rely on the mold remediation specialists at 911 Restoration to provide a thorough mold inspection and uncover any hidden growth. These experts are all highly trained to identify colonies and handle mold decontamination in the manner most effective for the species, the extent of the infestation, and the needs of your home or business. Once mold removal is complete, the crew uses specialized tools for structural dehumidifying to prevent future growth.
It's important that you keep a safe distance from any growth until mold remediation workers arrive to conduct a mold inspection. While black mold is the most famous dangerous fungus, the truth is that most varieties of mold can be hazardous to your health. Even white and brown mold possess pathogenic or allergenic properties, which means sharing the air with them for an extended period of time can lead to asthma and other health challenges. For the sake of your health, leave mold removal to the professionals.
And for the sake of your own peace of mind, let the professionals you choose be the mold remediation experts at 911 Restoration of Los Angeles. They put you and your well-being first. For the most reliable mold inspection and mold removal in Van Nuys, call 911 Restoration today. Call us at 310-421-2014 we are on stand by for you.

Servicing the cities of Alhambra, Altadena, Arcadia, Avocado Heights, Azusa, Baldwin Park, Bell, Bell Gardens, Bellflower, Beverly Hills, Burbank, Calabasas, Canoga Park, Cerritos, Claremont, Commerce, Covina, Culver City, Cypress, Diamond Bar, Downey, Duarte, East Los Angeles, El Camino Village, El Monte, El Segundo, Encino, Florence-Graham, Gardena, Glendale, Glendora, Granada Hills, Hacienda Heights, Hawthorne, Hermosa Beach, Huntington Park, Inglewood, Irwindale, La Canada, La Mirada, La Puente, La Verne, Lakewood, Lawndale, Los Angeles, Lynwood, Malibu, Manhattan Beach, Marina del Rey, Maywood, Mission Hills, Monrovia, Montebello, Monterey Park, North Hills, North Hollywood, Northridge, Norwalk, Pacific Palisades, Pacoima, Panorama City, Paramount, Pasadena, Pico Rivera, Playa del Rey, Pomona, Porter Ranch, Reseda, Rowland Heights, San Dimas, San Fernando, San Gabriel, San Marino, Santa Fe Springs, Santa Monica, Sherman Oaks, Sierra Madre, South El Monte, South Gate, South Pasadena, South Whittier, Studio City, Sun Valley, Sunland-Tujunga, Sylmar, Tarzana, Temple City, Thousand Oaks, Tujunga, Topanga, Universal, Van Nuys, Valley Village, Venice, Walnut, West Covina, West Hills, West Hollywood, Whittier, Winnetka, Woodland Hills, and surrounding areas.