Water Damage Reseda
Most homeowners in southern Californian are not properly prepared for invading water, due to the lack of wet weather we experience, so when you contact the water damage Reseda professionals at 911 Restoration Los Angeles you can feel confident in the fact that you have trained experts on your side.
Our Reseda leak repair staff is trained to provide you with all types of flood damage remediation, such as:
Toilet overflow sanitization

Pipe bursts remediation

Washer hose bursts correction

Mold infestation clean up

Water heater leak repair

Fire sprinkler malfunction restoration

Flooded basement water removal
Once you get a hold of a service agents, you will have personnel at your doorstep within 45 minutes or less ready to patch up the issue and begin pumping water out of your home.
We always provide same day services for all water-based emergencies, because we have enough experience to know that the longer water sits on the property the more damage it can cause.
Call our licensed, bonded and insured Reseda water emergency techs the moment you discover a leak in your home and we will do whatever it takes to get your home dry and clean again today.
Find Out How Air Leaks May Cause Water Damage
Our Reseda floodwater removal technicians want homeowners to be aware of air leaks and how they may contribute to water damage or other issues too.
To inspect windows and other openings you can follow these simple steps:
Seal the house by locking all doors, windows, and skylights.

Close all dampers and vents.

Turn on all kitchen and exhaust fans

Pass a burning incense stick along all openings to spot seeping air.

Search for puddling too.
You can also conduct a home air pressure test sucks outside air into the house to reveal air leaks that may in the property. 
Take a close look at your windows, doors and skylights to stop air leaks, halt water leaks, and to detect gaps and rot that may let water in. Call our Reseda water extraction unit today and we will give you a free home inspection.
We Will Repair Your Leak And Your State Of Mind
It is important for us to first provide you with the emotional support you need to get through this overwhelming time as soon as our Reseda flood damage operation gets to your home.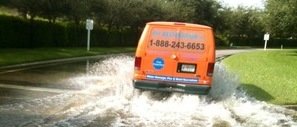 Keeping your well being in good condition is just as important to us as renovating your home. You need to feel calm and safe in order to think clearly, and with us on the job, you will be able to do just that.
Our Reseda water cleanup experts take customer service very seriously, which is one of the reasons we are the people you should call when you need help.
Our Reseda flood mitigation team is available to help you with technicians who are available 24/7/365, allowing you to contact us around the clock the moment you need assistance.
Call our water damage Reseda team with 911 Restoration Los Angeles and we will make sure you get the attention you deserve to get you on the path to a fresh start today!