Sewage Backup Cleanup in Los Angeles
You can get professional help handling sewage cleanup around the clock in Los Angeles. Leaving sewage to lie in your home or business can increase the damage to your property. You deserve help from a sewage cleanup company that can reach your property within 45 of any emergency call, 24/7/365.
Property owners in Los Angeles often require sewage cleanup after incidents such as:
You might also discover a sewage backup if heavy rains or flooding push sewage into your property. Regardless of the cause of your sewage backup emergency, you deserve prompt help from a skilled team of sewage cleanup professionals. 911 Restoration of Los Angeles provides local service backed by national resources to clean up sewage backups quickly and thoroughly.
Sewage can cause serious damage to your property and it also puts your health at risk. Sewage may contain a number of dangerous parasites, including round worm. You may also be exposed to pathogens like e-coli and salmonella if you attempt to clean up raw sewage on your own. Properties exposed to sewage may also develop issues with mold growth if they are not professionally cleaned.
Here at 911 Restoration of Los Angeles, we know how important it is to clean up your property and return it to perfect condition. We have the equipment to handle sewage cleanup and our team will work aggressively to remove any trace of sewage from your home or business.
Does Water Damage Restoration Help after a Sewage Backup?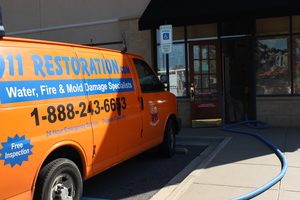 Sewage carries dangerous bacteria and the risk of mold growth into your home or business. Sewage can also cause severe water damage as it soaks into floors and drywall. A company trained to handle water damage restoration will be able to help you get your property back into excellent condition.
911 Restoration of Los Angeles will identify the source of the sewage and then work to eliminate the underlying cause of your issue. Once no further sewage can enter your property, we can get to work pumping out any sewage that remains. Sewage cleanup requires thorough decontamination procedures along with standard water damage restoration processes.
We have the experience necessary to:
Tear Out Ruined Materials
Completely Dry Your Property
Thoroughly Clean Salvageable Items
These steps allow you to feel confident about the cleanliness of your property. Water damage restoration should be completed as quickly as possible after any sewage emergency. Allowing sewage to remain in your property will increase the damage to the structure of your home or business. Lengthy exposure to raw sewage also increases the risks to your health.
Getting professional help from a company with an IICRC certification to handle water damage restoration means your property will be in good hands. Contact us today to learn more about your options after any sewage backup with a free visual inspection for property owners only.
Sewage Restoration Can Be an Option for You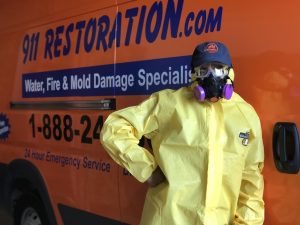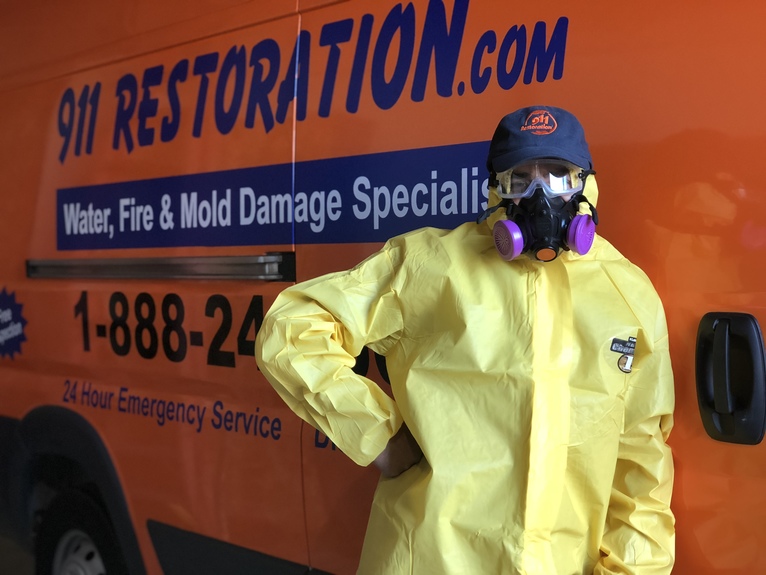 Homes and businesses throughout Los Angeles, Whittier, Glendale, and surrounding areas can be impacted by a sewage emergency. While no one wants to find raw sewage in their property, you do have options for handling sewage cleanup quickly, before the problem can get any worse.
911 Restoration of Los Angeles can help you handle sewage and water damage restoration, even for damage you can't see. Sewage from burst pipes sometimes lies behind walls or under floorboards, where it can ruin wood and provide dangerous bacteria with a place to breed. Our technicians work with specialized infrared scanners to detect moisture from sewage wherever it might be hiding in your property.
Your health and safety are the primary concern of 911 Restoration of Los Angeles after a sewage backup. You might be instructed to steer clear of the area while we carry out sewage cleanup. Our team is armed with professional grade protective equipment to deal with dangerous pathogens. It is highly recommended that you do not attempt to clean up sewage without equipment to protect your well-being.
We have experience working in both residential and commercial buildings. Allowing the sewage to spread can cause you more headaches in the long run, so you can count on us to quickly contain any sewage spill to a small area. 911 Restoration of Los Angeles can even assess your air conditioning and HVAC systems to ensure they were not contaminated by raw sewage.
Once your property is free from sewage and all moisture has been removed, 911 Restoration of Los Angeles can provide repair services. The team will replace salvaged and cleaned items and restore any parts of your home or business that were damaged. Get the skilled help you need to recover from a sewage emergency by calling us for water damage restoration services today.