Water Damage in Walnut
Maintaining a property is no small feat. It takes a tremendous commitment of your time and attention, to say nothing of the financial investment. So when your property is struck by a burst pipe, storm, sewage backup, or any other unexpected water damage, it can feel like a full-blown invasion. You may wonder if your home or business will be the same after water damage. You may stress about the expense of flood cleanup and mold remediation. Whatever worries flood your mind, know this: 911 Restoration of Los Angeles is here to make things right again… and the dedicated water damage in Walnut restoration staff will do all they can to keep your costs low.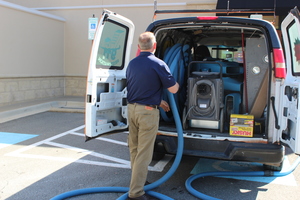 These IICRC certified water damage restoration and mold removal technicians have a great deal of experience providing flood cleanup in Walnut and the surrounding area. They are familiar with the disasters that plague local properties, from flooding after a storm to standard household incidents like pipe bursts. They are equipped to handle your unique situation, including structural repairs, surface replacement, mold inspection, and mold decontamination. Our water damage restoration workers are determined to give you a Fresh Start after water damage, and to make things as easy as possible so you can get everything done with one contractor.
911 Restoration accepts all types of insurance, and a friendly staff member will even sit down with you for a free insurance consultation. Depending on your situation, you may need a variety of services, from sewage extraction to roof repair. The flood cleanup experts go over your insurance plan and explain which services are covered by your provider. That way, you enter the water damage restoration process already knowing what to expect in terms of personal expense. The staff also provides loss itemization assistance, claim filing, and direct billing.
Your mind may be reeling after your pipe burst, but it's easier than you think to find the answers you need. Just call 911 Restoration of Los Angeles today.
Speedy Water Damage Restoration in Walnut
Did you know you can reach the flood cleanup crew at 911 Restoration 24/7/365? Not only that, but the experts on staff are guaranteed to be at the scene of your water disaster in 45 minutes or less.
Rest assured, your dedicated water damage restoration technicians take this incident as seriously as you do. They know that every second water is left to seep into the structure of your property, your risk of costly damages increases exponentially. They work quickly to minimize the damage, handling everything from leak detection and water extraction to emergency boarding up and storm repair. They even look out for your belongings, packing out and storing all items that might be in harm's way during the flood cleanup process.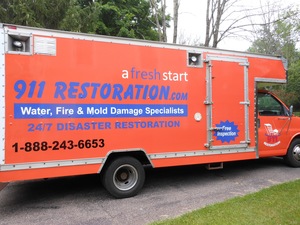 While the water damage restoration workers approach your situation with an emphasis on speed, they also care about providing thorough flood cleanup that rises to the highest standard of service. They aren't just trying to get the water out—they're restoring your home or business to its best-ever condition and taking extra measures to fortify your property against future disasters.
If you've suffered any kind of damage, you can count on our water damage restoration crew to handle all repairs. If you're at risk of mold contamination, they conduct a mold inspection and handle mold remediation themselves. They even dry out the structure thoroughly to prevent rotting, warping, and mold growth in the long term.
You don't have to worry about anything because our experts think of everything. For top-quality flood cleanup and mold remediation in Walnut, call 911 Restoration of Los Angeles today.
Why a Certified Mold Specialist is the Inexpensive Approach to Mold Decontamination
When many property owners discover fungus growing in their home or business, their first instinct is to cut costs by attempting mold removal with household cleaners. This may seem like an economical option, but it will cost you big in the long run.
You see, in order for a mold remediation strategy to be effective, it should involve multiple steps. First, you need a comprehensive mold inspection performed by a certified mold removal specialist. Mold reproduces via microscopic airborne spores. These spores frequently create new colonies hidden out of sight. If you attack one colony with cleaning products without having had a professional mold inspection to uncover additional infestations, you'll likely end up leaving mold to thrive in your home or business without your knowledge.
When the mold removal experts at 911 Restoration discover all existing colonies during the mold inspection, they know how to tackle mold removal in the most effective way for that particular species. Some varieties of mold release dangerous particles into the air, and only certified mold remediation professionals know how to remove the growth while keeping you safe from mycotoxins. 
Mold removal professionals conclude the process with structural dehumidifying. This leaves the structure of your property bone dry so that any spores left behind by the infestation no longer have a place to land. As this step is not part of a typical do-it-yourself mold removal process, any cleaning attempts of your own are likely to leave you vulnerable to a repeat infestation almost immediately.
If you need mold decontamination, save more money in the long run by investing in a highly effective solution today. Call 911 Restoration of Los Angeles and bid mold goodbye for good.
Servicing the cities of Alhambra, Altadena, Arcadia, Avocado Heights, Azusa, Baldwin Park, Bell, Bell Gardens, Bellflower, Beverly Hills, Burbank, Calabasas, Canoga Park, Cerritos, Claremont, Commerce, Covina, Culver City, Cypress, Diamond Bar, Downey, Duarte, East Los Angeles, El Camino Village, El Monte, El Segundo, Encino, Florence-Graham, Gardena, Glendale, Glendora, Granada Hills, Hacienda Heights, Hawthorne, Hermosa Beach, Huntington Park, Inglewood, Irwindale, La Canada, La Mirada, La Puente, La Verne, Lakewood, Lawndale, Los Angeles, Lynwood, Malibu, Manhattan Beach, Marina del Rey, Maywood, Mission Hills, Monrovia, Montebello, Monterey Park, North Hills, North Hollywood, Northridge, Norwalk, Pacific Palisades, Pacoima, Panorama City, Paramount, Pasadena, Pico Rivera, Playa del Rey, Pomona, Porter Ranch, Reseda, Rowland Heights, San Dimas, San Fernando, San Gabriel, San Marino, Santa Fe Springs, Santa Monica, Sherman Oaks, Sierra Madre, South El Monte, South Gate, South Pasadena, South Whittier, Studio City, Sun Valley, Sunland-Tujunga, Sylmar, Tarzana, Temple City, Thousand Oaks, Tujunga, Topanga, Universal, Van Nuys, Valley Village, Venice, Walnut, West Covina, West Hills, West Hollywood, Whittier, Winnetka, Woodland Hills, and surrounding areas.