Water Damage Van Nuys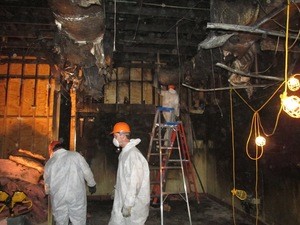 Bringing the best people and the latest drying technology to the scene of a water damage Van Nuys challenge is why owner with 911 Restoration Los Angeles is the go-to service professional for the entire area. Call us at 310-421-2014 and allow us to provide you with a free visual inspection.
Water damage in Los Angeles doesn't seem like a common problem because of the arid climate that the Southerly portion of the state experiences, but in reality it is still one of the most common claims that homeowners make on their insurance.
"The infrastructure of the Los Angeles area is aging and that means homeowners have an increased likelihood of a water damage situation happening in their home," owner says.
By providing the solutions to water damage Van Nuys problems, owner and his team have mastered the craft and become the best option for homeowners and businesses in need of expert services at a great value.
Never let your home experience a water damage issue without professional help. Contact the owner and let him and his specialists with 911 Restoration Los Angeles guide you through the entire restoration process today! Our phone number is 310-421-2014 and on stand by waiting to help.
Avoiding Floods in Van Nuys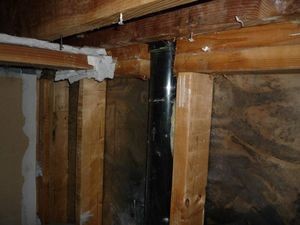 When the people of Van Nuys have a flood happen in their home from an infrastructure issue, or from a heavy rain that finds its way inside, they rely on the owner and his crews to take care of them.
The owner has become such a trusted source of help and information within the community because he likes to give people all the advice they need for avoiding a water damage event in the first place.
"People can protect their homes in a number of ways, and we like to give them that information so that when something happens that they can't take care of on their own, they know that they can trust us to do everything for them the right way," owner exclaims.
Additionally, the owner advises that people clean out the debris from their gutters and downspouts every year to avoid an overflow when heavy rain does his.
This will ensure that there are no clogs which can coax overflows which, in turn, will invade your roof and cause water damage on the interior of the home.
"Also, people can check the hoses and connectors on their appliances which are hooked-up to the water line," owner explains. "Doing this will let people find small abrasions to have them fixed before they become large ones that rupture."
Don't let your hoses or connectors rupture. Contact the owner and his water damage Van Nuys specialists with 911 Restoration Los Angeles today at 310-421-2014!
Artistic Water Restoration Efforts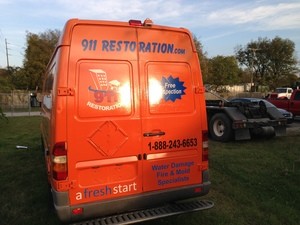 Sometimes owner and his teams encounter more than just water damage when they take on a project. On one occasion, He and his crews did a restoration for an art house in which there was damage not only to the structure of the building, but also to the art itself.

"There was mold all over a large number of paintings and it was such a shame because they were gorgeous works of art," owner explains.
The owner and his crews took the art from the location and stored it safely while they did the repair work for the building. At the same time as this was taking place, the art was having the mold removed from it too.
"We took extra special care of the art, and we offered the store owner a great deal on those services because they were so amazing to look at," owner explains.
The owner and his staff were so dedicated to the caretaking of this artwork and the property itself that they even helped out with the insurance paperwork for the client because she was in another state at the time of the incident.
Don't let your home or your art be inundated with water damage from any source. Contact the owner and the water damage Van Nuys pros with 911 Restoration Los Angeles today at 310-421-2014!