Water Damage Restoration in Universal City
Universal City is an exciting place to live and work. Between the bustling film industry, fun tourist attractions like Universal Studios and Universal CityWalk, and the close proximity of Griffith Park, the community offers adventure and creature comforts in equal measure. But not even Universal City is immune to the threat of water damage. Local property owners are always vulnerable to water disasters, whether from storms, sewage backups, pipe bursts, or other unexpected incidents. If your home or business has been struck by water, don't worry. 911 Restoration of Los Angeles is on hand 24/7 to provide expert flood cleanup in Universal City and the surrounding area. Call us at 310-421-2014 and allow us to provide you with a free visual inspection.
Just like you, the water damage restoration and mold remediation technicians at 911 Restoration take great pride in their local community. This means they do whatever it takes to keep local homes and businesses in top condition. Whether you need flood cleanup or mold removal, they bring their A-game, drawing on extensive training and years of experience to provide the highest standard of service. Every technician is IICRC certified and capable of handling everything from sewage removal to drywall repair to mold decontamination. And for a pipe burst, storm damage, sewage backup, or any other water emergency, they offer 24/7 availability with a 45-minute guaranteed arrival time.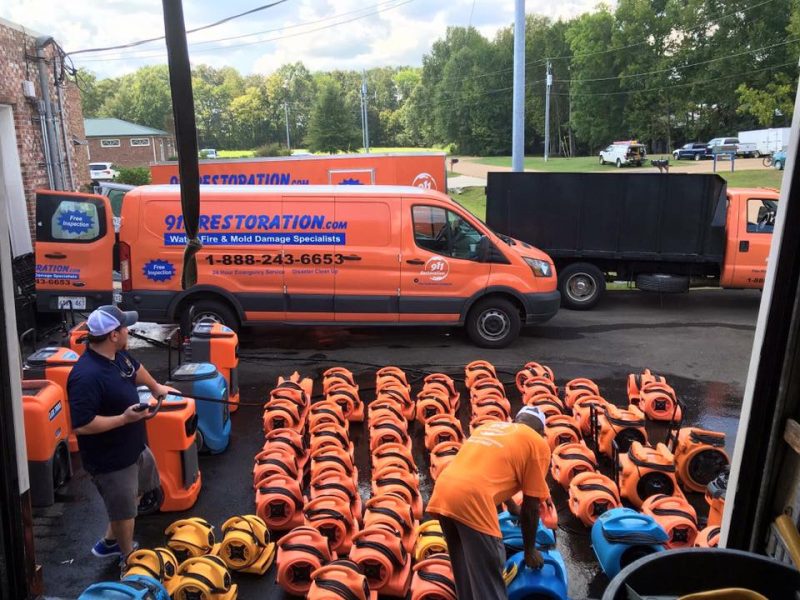 911 Restoration of Los Angeles is locally owned and operated, and you can always count on this staff to prioritize their neighbors' well-being. When you're hit by devastating property damage, they approach the job with care and compassion, providing a free insurance consultation so you don't have to navigate your paperwork alone. They help you understand which services your provider covers, from water extraction to roof repair to mold remediation. Then, they assist with loss itemization, file your claim for you, and bill your provider directly so it's 100% out of your hands.
A water disaster can be devastating, but with the right water removal company, water damage restoration can be your Fresh Start. Call 911 Restoration of Los Angeles for fast, expert service. Our phone number is 310-421-2014 and we are always on stand by for you.
Business And Home Water Damage Restoration In Universal City
Universal City's community is defined both by beautiful residences and the studios and businesses that make this city such a draw. No matter which type of property you own, you can rest assured our flood cleanup crew at 911 Restoration understands how urgent recovery is for you. Residential water damage is a disruption to your life and wellness, and commercial damage is a threat to your livelihood. In any circumstance, turn to 911 Restoration of Los Angeles for relief.
In order to minimize damage, our water damage restoration experts waste no time getting to your property. They come prepared to provide any emergency service you need, from boarding up and roof repair to sewage extraction and leak detection. They pack up and store any at-risk belongings, ensuring that you don't lose any precious memories, valuable inventory, or beloved furnishings. Once they've removed the water or sewage entirely, the flood cleanup workers bring in professional-grade fans to dehumidify the structure completely, leaving you with a home or business that is bone dry and solid as ever.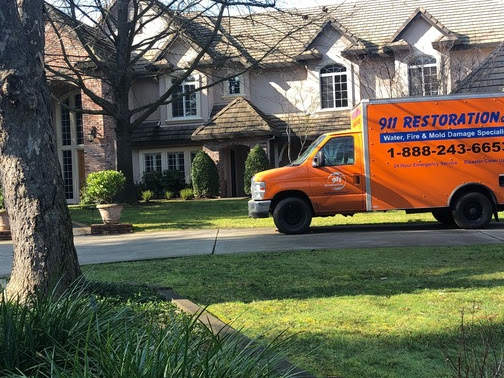 Of course, there are situations when water damage is too extensive to avoid destruction. Perhaps you've been struck by a mudslide or came into the office only to discover that a pipe burst overnight and water has been leaking into your foundation for six hours. Not to worry. If there is any permanent damage, weakness, or mold contamination, our water damage restoration technicians have it covered. They repair everything from roofing to drywall, and they conduct both mold inspections and mold remediation.
Your friendly flood cleanup workers leave no stone unturned when it comes to making your home or business new again. For a full recovery after a pipe burst or any other form of water damage, call 911 Restoration of Los Angeles at 310-421-2014.
Expert Mold Removal Services
If you think you might have a mold infestation, it's highly advisable that you contact a certified mold remediation contractor for a mold inspection right away. The mold removal experts at 911 Restoration are all highly trained and capable of not only eliminating an infestation but also fortifying your home or business against the threat of repeat growth. If you put off a mold inspection and mold remediation, you risk serious property destruction, as the infestation can eat away at the surfaces of your property. More importantly, you place your family, coworkers, clients, and yourself at risk of the health problems associated with mold contamination.
You may be tempted to use household cleaning products to remove mold. Many property owners attempt DIY mold remediation in an effort to avoid the cost of a mold inspection and professional mold removal. While this instinct is understandable, it isn't a real solution. Only a mold inspection from a certified professional can ensure that every colony on your property has been discovered and dealt with. Only a mold remediation expert can handle mold removal in a way that is both completely effective and limits the spread of spores and mycotoxins. And only a mold specialist will use professional tools to fully dehumidify the building, ensuring that the problem doesn't return in the future.
Whether you need flood cleanup or mold removal in Universal City, you deserve the help of a restoration company that prioritizes your well-being. For genuine customer care and the highest standard of service, call 911 Restoration of Los Angeles today. Call us at 310-421-2014.
Servicing the cities of Alhambra, Altadena, Arcadia, Avocado Heights, Azusa, Baldwin Park, Bell, Bell Gardens, Bellflower, Beverly Hills, Burbank, Calabasas, Canoga Park, Cerritos, Claremont, Commerce, Covina, Culver City, Cypress, Diamond Bar, Downey, Duarte, East Los Angeles, El Camino Village, El Monte, El Segundo, Encino, Florence-Graham, Gardena, Glendale, Glendora, Granada Hills, Hacienda Heights, Hawthorne, Hermosa Beach, Huntington Park, Inglewood, Irwindale, La Canada, La Mirada, La Puente, La Verne, Lakewood, Lawndale, Los Angeles, Lynwood, Malibu, Manhattan Beach, Marina del Rey, Maywood, Mission Hills, Monrovia, Montebello, Monterey Park, North Hills, North Hollywood, Northridge, Norwalk, Pacific Palisades, Pacoima, Panorama City, Paramount, Pasadena, Pico Rivera, Playa del Rey, Pomona, Porter Ranch, Reseda, Rowland Heights, San Dimas, San Fernando, San Gabriel, San Marino, Santa Fe Springs, Santa Monica, Sherman Oaks, Sierra Madre, South El Monte, South Gate, South Pasadena, South Whittier, Studio City, Sun Valley, Sunland-Tujunga, Sylmar, Tarzana, Temple City, Thousand Oaks, Tujunga, Topanga, Universal, Van Nuys, Valley Village, Venice, Walnut, West Covina, West Hills, West Hollywood, Whittier, Winnetka, Woodland Hills, and surrounding areas.