Water Damage Pico Rivera
When a plumbing issue causes your home to become flooded with water, homeowners can stay calm and call the water damage Pico Rivera techs at 911 Restoration Los Angeles.
Our Pico Rivera water removal operation is licensed, bonded and insured to remediate all causes of water damage, such as:
Washing machine overflow

Ruptured hoses

Flooding

Leaky shower pan

Ice machine Malfunction

Burst Pipes

Roof leaks

Sewage backups

Appliance malfunction

Water heater explosions
We want you to feel protected when you call us, so we reassure you that we will be at your home within 45 minutes or less to begin assessing the situation.
Getting the water up and off your property quickly is the best way to ensure a full recovery, so we always implement same day services as soon as we arrive on the scene.
Let us give you a free home inspection and we will make sure that you understand exactly what works need to be done on your home from the start.
Stop Plumbing Leaks From Causing Permanent Damage
Plumbing leaks and the resulting water damage repairs or mold eradication can be costly. Our Pico Rivera flood mitigation unit wants homeowners to be able to void these inconveniences by following some simple tips:
Locate your home's main water shut-off valve. If there's ever a plumbing leak, you can go straight there and quickly turn off the water to the entire house, which will immediately halt the flow of water.

Install shut-off valves at individual appliances and fixtures. This allows you to keep water flowing in other areas of the house while making site-specific repairs.

Install a flow sensor that detects plumbing leaks and automatically shuts off water to the entire house or a specific appliance. You can get those devoted to a specific appliance or some that are for the whole-house.
Our Pico Rivera office is available 24/7/365, enabling you to contact us as soon as possible after your water disaster has occurred, no matter what time you incident happened.
Call our Pico Rivera water disaster workers today and we will make sure your home avoids all permanent damage that may be caused by plumbing issues.
We Are Here To Assist You With All Things Water Related
Being surprised by a water disaster is never a fun moment, and our Pico Rivera flood cleanup experts are here to make this process as easy as possible.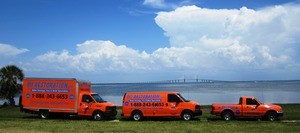 After we arrive on the scene, we want you to just sit back and relax as much as you can while we take over everything.
Our experts are always going to put the customer first because we are deeply dedicated to professionalism.
We will fix the source of the problem, eradicate the water damage, check for mold growth and repair any damage that has been inflicted.
Our Pico Rivera water disaster technicians will also file your insurance claim for you, so you literally do not have to deal with anything.
Call our water damage Pico Rivera team with 911 Restoration Los Angeles as soon as you notice unwanted water in your home, and we will make sure you get the fresh start you deserve today!