Water Damage and Mold Removal Sierra Madre
Between pipe bursts, puffbacks, and flooded basements, there's no telling when disaster will strike your property. In any crisis, turn to 911 Restoration of Los Angeles for expert flood cleanup, mold removal, and fire restoration.
Our staff is IICRC certified and highly trained to provide the very best service in Sierra Madre and beyond. We are available to you 24/7/365, and our emergency restoration crew guarantees an arrival time of 45 minutes or less.
We know how stressful property damage can be. Whether it's a sewage backup or a pipe burst, any disaster can send you reeling. Our staff works diligently to anticipate your needs, operate with transparency, and address your most pressing questions. 911 Restoration offers a free visual inspection (for property owners only). This zero-obligation service helps you get a sense of your damages, recovery timeline, and potential costs. Then, to alleviate the financial burden of water damage restoration and other services, we provide a free insurance consultation. 911 Restoration works with all providers, and a member of our staff is happy to explain your exact coverage in clear terms. We also assist with loss itemization, claim filing, and direct billing.
Our team provides an insurance consultation because many restoration services are complex. As a full-service restoration contractor, we handle everything from water removal to mold remediation and roof repair. It may not be obvious which services your policy covers. We find the answer for you so you're not stuck playing phone tag with your provider.
911 Restoration is insured, bonded, licensed, and locally owned and operated. We proudly provide water damage restoration, fire restoration, and mold removal in Sierra Madre and throughout L.A. Our experts service both commercial and residential properties.
Even in your darkest hour, know that you're not alone. Call 911 Restoration of Los Angeles today.
24-Hour Emergency Water Damage Restoration in Sierra Madre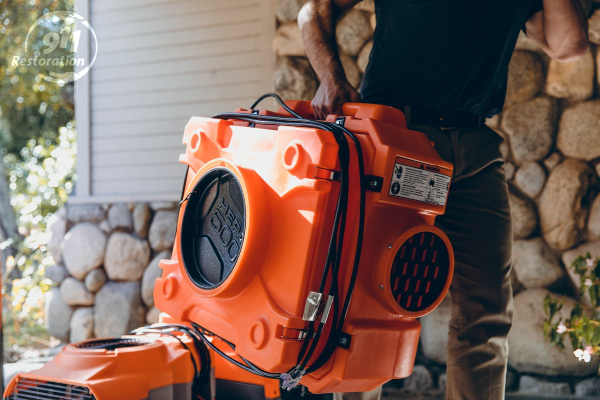 There is no water damage emergency 911 Restoration cannot handle. Call us any time for any disaster, 24 hours a day. Our water damage restoration experts provide a Fresh Start after pipe bursts, storm destruction, and even mudslides.
Speed is of the essence when it comes to a water invasion. Standing water can cause major problems for the structure of your home or business. Our flood cleanup technicians work quickly to minimize the risk of costly damages such as rotting, structural weakness, and mold contamination. They arrive in 45 minutes or less and begin water removal right away.
Our flood cleanup experts also pack out and store any belongings at risk of damage during the water damage restoration process. If you require emergency repairs such as boarding up or roof repair, they handle those tasks as well. Whatever it takes to guard against damage and eliminate water from your home or business, our flood cleanup crew has it covered.
At 911 Restoration, we believe water damage restoration should be truly comprehensive. You have enough to worry about without wrangling additional contractors to handle repairs and mold removal. Our flood cleanup staff manages all aspects of recovery, including major repairs like drywall replacement and carpet removal.
Our last step is an extensive mold inspection. Fungus thrives in the aftermath of a pipe burst or flooded basement. In fact, mold spores only need 24 hours of exposure to a damp surface to begin an infestation in your home or business. Over time, mold eats away at the materials of your property and releases dangerous particles into the air you breathe.
The mold remediation experts at 911 Restoration work diligently to avoid these outcomes with a complete mold inspection and mold removal. They use the most advanced procedures to conduct mold remediation in a manner that ensures your safety. After they have completed mold removal, our workers even dehumidify the structure itself. This drastically reduces the risk of recurring growth. The last thing we want is for you to get stuck in a never-ending cycle of fungus development and mold remediation.
Whether you're battling mold or water, you can trust 911 Restoration of Los Angeles to work with your best interests in mind. Call now for quality water damage restoration and mold removal in Sierra Madre.
Make a Full Recovery from Fire and Smoke Damage
Due to the increasing prevalence of wildfires, 911 Restoration has extensive experience providing fire cleanup in Sierra Madre. Whether your smoke or fire damage is from a community-wide disaster or an isolated incident, you can count on us for compassion and communication. Our crew is driven to provide peace of mind and the quality of service you deserve.
Turn to us for a free fire damage assessment. One of our fire restoration experts gladly explains the nature of your damage and empowers you to make the best decisions for your home or business. Our fire cleanup crew provides comprehensive service. We go beyond basic smoke removal to offer a truly Fresh Start.
Your dedicated smoke damage cleanup crew makes every surface in your home or business sparkle again. They use sodablasting for soot, ash, and smoke removal. They clean smoke damage from dishes and furniture. They promise permanent odor removal and even handle water damage restoration if the fire department flooded your space. For any smoke damage that cannot be cleaned, our fire restoration staff repairs or replaces the stained material. These fire cleanup workers even manage large-scale repairs like roof or drywall replacement.
It may be difficult to imagine now, but we will make your property brand new again. Call now and we'll show you how.