Water Damage Lynwood
Our water damage Lynwood pros at 911 Restoration Los Angeles are licensed, bonded and insured to help you deal with any moisture problems your home may experience due to weather or plumbing issues. Give us a call at 310-421-2014 and allow us to provide you with a free visual inspection.

We are licensed, bonded and insured to mitigate all causes of water damage, such as:
Pipe bursts and other plumbing issues

Flooded basements

Crawlspace condensation

Sink, toilet and bathtub overflows

Clogged gutters and downspouts

Roof and ceiling leaks

Storm and other water-based disaster damage

Sewage backups

Fire sprinkler malfunction

Washing machine leaks

Ruptured hoses

Leaking ice machines and other refrigerator issues
Since most southern California residents do not frequently experience rain, when it does actually begin to storm, many homes are not prepared for the effects that the weather brings.
Call our water damage Lynwood professional with 911 Restoration Los Angeles and we will get you on the road to restoration with a free home inspection today! Our phone number is 310-421-2014 and we are on stand by for you.

How to Pinpoint Window Water Problems
Air and water can seep into closed widows from gaps and rot in frames, deteriorating caulking, cracked glass, and closures that don't fully close.
To stop air leaks, our Lynwood flood damage restoration techs want you to give your windows a thorough inspection on a regular basis:
Give your window frame a little shake. If they rattle, the frames are not secure, so heat and air conditioning can leak out and rain can seep in.

Look deep. If you can see the outside from around the window, then you've got window gaps. Seal up air leaks by installing caulking and weather stripping around frames.

Inspect window panes for cracks. Repair any damage you may find right away.

Check locks. Make sure double-hung windows slide smoothly up and down. If not, run a knife around the frame and sash to loosen any dried paint. Tighten cranks on casement windows and check that all top locks fully grab latches.
In order to assist you the best we can, our Lynwood water disaster crew will be at your home within 45 minutes, if not sooner, fully equipped with the technology needed to get your home clean and dry.
Call our Lynwood water cleanup operation today and let us restore any damage that a leaky window may have caused. Our number is 310-421-2014.

After A Flood You Can Count On Us To Pick Up The Pieces
Most California homeowners aren't used to experiencing a home flood and, it is no surprise, that such an incident would be overwhelming and even scary.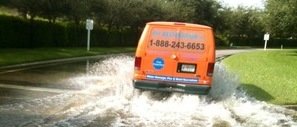 Our Lynwood leak repair team wants to make sure that when we arrive on the scene you feel safe and secure knowing that from here on our we have got the situation handled.
When you call our office, you can be confident that you will always get in touch with a service agent, because we keep our office available 24/7/365.
When it comes to remediating a flood or leak, we will work fast and efficiently to make sure that it does not happen again. Going through this one time is more than enough.
Call our water damage Lynwood emergency staff with 911 Restoration Los Angeles and we will make sure your family is taken care of in the midst of a water emergency today! Call us at 310-421-2014.