Water Damage La Mirada
When it comes to the various difficulties that are involved with a flooding cleanup operation, there is no one more skilled and prepared than our water damage La Mirada team with 911 Restoration Los Angeles.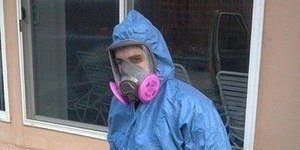 Our technicians are well aware that the most effective way of controlling the amount of damage that can be done in a water invasion is by making sure they are there early.
To achieve this, our technicians will arrive within 45 minutes of the call for help so that they can start immediately on repairing your home or office.
Moreover, we are also available 24/7/365 which means that there is never a crisis that we can't handle at any time it pops up.
Our water damage La Mirada technicians are also highly dedicated to making life easy for our customers when these events arise.
If your home or business is already amid a flooding event of any kind, then make sure to contact our water damage La Mirada team with 911 Restoration Los Angeles for help today!
Making Sure Water Invasions Don't Happen
Our specialists are highly trained in all aspects of remedying a home or business after water has already invaded, but they are also called regularly for help in preventing such dilemmas too.
Here are some prevention tips:
Take the time to look at the pipes around your home or office that are exposed, and make sure they aren't corroded or dripping as these will need to be replaced immediately.
Inspect the hoses and fittings that link your home's appliances to the water line. If there is wear and tear, replace them immediately to avoid water damage.
Clean out your gutters at least once per year to ensure that they don't have too much leaf matter and debris in them which will cause overflows.
Eliminate any roots that are encroaching on the pipes in the ground that go to and from your home as these may pinch them and curtain water transportation.
Point your downspouts away from the structure of your home or office so that it doesn't saturate the foundation and cause liquefaction to occur.
These are some of the more common forms of water damage and how to avoid them through maintenance and other tasks, but these are not all the methods for staying dry, so if you have questions feel free to contact us for help.
Don't let your home suffer from a water invasion alone. Contact our water damage La Mirada team with 911 Restoration Los Angeles and let our specialists take it all on for you today!
Explaining Water And Flooding Damages
Flooding and water damage go hand in hand, and there is usually no way to escape large amounts of water damage if there is a major flood without sand bagging your home.

When barriers like this aren't erected, we are the first call that people make to clean up the mess of the flooding.
We come in with the most advanced drying technology and suction tools to eliminate all the excess moisture in the area.
Then, we even help out with all of the insurance paperwork that comes with a claims process from major flooding too.
Our technicians are highly trained to take on just such instances for people during their greatest time of need.
We are fundamentally dedicated to professionalism and we make sure to always put the customer first with every project we take on.
If your office or residence is already amid a gray water crisis, then don't hesitate to get in touch with our water damage La Mirada team with 911 Restoration Los Angeles for help today!