Water Damage Restoration in Hawthorne
Need flood cleanup services immediately? Looking for local, inexpensive mold removal in Hawthorne? 911 Restoration of Los Angeles has you covered. Staffed exclusively by IICRC certified property restoration technicians, 911 Restoration covers everything from emergency water damage restoration in Hawthorne to sewage restoration to mold inspection and mold remediation.
Even better: you can reach the flood cleanup crew 24/7/365 for your pipe burst, storm disaster, or any other emergency water damage situation. The water damage restoration technicians understand that there is no time to waste when it comes to a property flood or roof leak, so they don't make you wait for the service you need. And when you call, they get there in 45 minutes or less, guaranteed.
The experts at 911 Restoration place high value in their community, which means they support their neighbors with comprehensive flood cleanup in Hawthorne and the surrounding areas. They don't just want to get rid of your water or sewage situation; they want to provide you with a Fresh Start. This means water removal, structural drying, all necessary repairs, mold inspection, and mold remediation. Throughout it all, they communicate clearly and work with full transparency so you always know what services they're carrying out and why you need them. 
Worried about the cost of water damage restoration in Hawthorne? Most home and property owners are. The flood cleanup staff takes the guesswork out of the equation by providing a free insurance consultation. That means you don't have to navigate the complicated waters of your insurance coverage alone. A staff member clarifies which services are covered by your provider, then they assist with all the necessary paperwork to make sure you get every benefit to which you are entitled.
When you've put so much time and energy into making your property a safe haven, a pipe burst or other water disaster can feel like a slap in the face. Call 911 Restoration of Los Angeles and let a team of expert flood cleanup technicians turn the insult into a Fresh Start.
Full-Service Emergency Water Damage Restoration in Hawthorne
No two water disasters are exactly alike. From pipe bursts to property floods, historic homes to retail spaces, the potential damages to your home or business can vary widely. Fortunately, the flood cleanup experts at 911 Restoration of Los Angeles are trained to handle every eventuality.
No matter what type of disaster you have endured, the water damage restoration technicians are guaranteed to provide comprehensive service to leave your property in its best-ever condition. They start with emergency services, such as boarding up, roof repair, storm repair, leak detection, water extraction, and sewage removal. They even pack out and store any items that might be in harm's way, preventing unnecessary damage to your personal belongings. Once they've gotten rid of the water, our restoration technicians dehumidify the structure down to its core. This step helps prevent rotting and warping. It is also essential in the prevention of mold, as stored moisture eventually rises to the surface, providing a breeding ground for mold spores.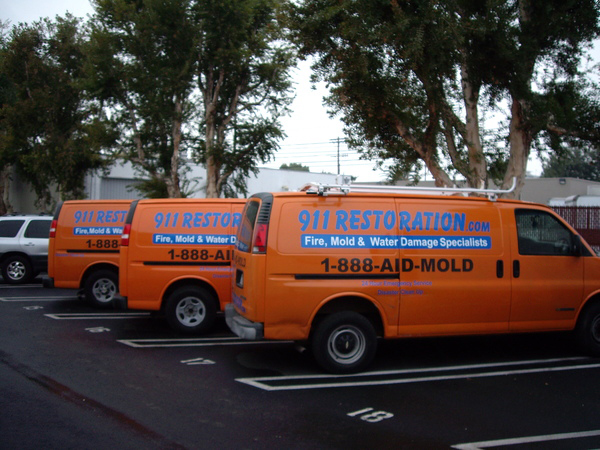 Of course, sometimes property damage and mold contamination are unavoidable in the wake of a particularly severe pipe burst or water disaster. In that event, you'll be glad you called 911 Restoration. Our flood cleanup professionals are equipped to handle all repairs, as well as mold inspection and mold remediation. You never have to call another contractor. One call, one invoice, one restoration job complete.
It's true that water damage restoration can be a complicated process. But you can keep it simple for yourself just by calling 911 Restoration of Los Angeles. The flood cleanup and mold removal experts will take it from there.
Can I Use Cleaning Products to Remove Mold?
If you're searching online for do-it-yourself mold removal tips, you wouldn't be the first. Many property owners turn to the Internet in the hopes of discovering that they can handle mold decontamination with the use of cleaning products. Unfortunately, any DIY mold remediation efforts are bound to fall flat.
Why? Because mold is a complicated organism. It reproduces via airborne spores that travel to hidden areas within your home or business. If you see one infestation in plain sight, you likely have a second, third, or even fourth colony hidden behind your walls. You need a certified mold decontamination expert to conduct a mold inspection and discover those hidden infestations. Otherwise, your mold removal efforts won't include mold in the walls, which means that colony will continue to destroy your property and release harmful particles into the air.
Speaking of harmful particles, attempting mold decontamination yourself puts you in direct contact with a colony that could have toxigenic or pathogenic properties… meaning it could seriously damage your health. And if your mold removal technique doesn't include structural dehumidifying to prevent a recurring infestation, you are likely to find yourself back in this boat again—trying to find a quick and cheap fix for a mold disaster that won't go away.
Save your health, save your money, and save your sanity: call 911 Restoration of Los Angeles for a mold inspection and remediation in Hawthorne today.
Servicing the cities of Alhambra, Altadena, Arcadia, Avocado Heights, Azusa, Baldwin Park, Bell, Bell Gardens, Bellflower, Beverly Hills, Burbank, Calabasas, Canoga Park, Cerritos, Claremont, Commerce, Covina, Culver City, Cypress, Diamond Bar, Downey, Duarte, East Los Angeles, El Camino Village, El Monte, El Segundo, Encino, Florence-Graham, Gardena, Glendale, Glendora, Granada Hills, Hacienda Heights, Hawthorne, Hermosa Beach, Huntington Park, Inglewood, Irwindale, La Canada, La Mirada, La Puente, La Verne, Lakewood, Lawndale, Los Angeles, Lynwood, Malibu, Manhattan Beach, Marina del Rey, Maywood, Mission Hills, Monrovia, Montebello, Monterey Park, North Hills, North Hollywood, Northridge, Norwalk, Pacific Palisades, Pacoima, Panorama City, Paramount, Pasadena, Pico Rivera, Playa del Rey, Pomona, Porter Ranch, Reseda, Rowland Heights, San Dimas, San Fernando, San Gabriel, San Marino, Santa Fe Springs, Santa Monica, Sherman Oaks, Sierra Madre, South El Monte, South Gate, South Pasadena, South Whittier, Studio City, Sun Valley, Sunland-Tujunga, Sylmar, Tarzana, Temple City, Thousand Oaks, Tujunga, Topanga, Universal, Van Nuys, Valley Village, Venice, Walnut, West Covina, West Hills, West Hollywood, Whittier, Winnetka, Woodland Hills, and surrounding areas.