Water Damage and Mold Removal in Gardena
When a pipe bursts in the middle of the night, call 911 Restoration of Los Angeles. Our lines are open 24/7/365. When your call comes in, our water damage restoration crew is on the scene in 45 minutes or less, guaranteed.
911 Restoration of Los Angeles is a locally owned and operated business backed by the resources of a major nationwide contractor. We pride ourselves on providing comprehensive restoration service in any disaster. Our technicians offer full-service fire cleanup, mold removal, water damage restoration, smoke removal, and more.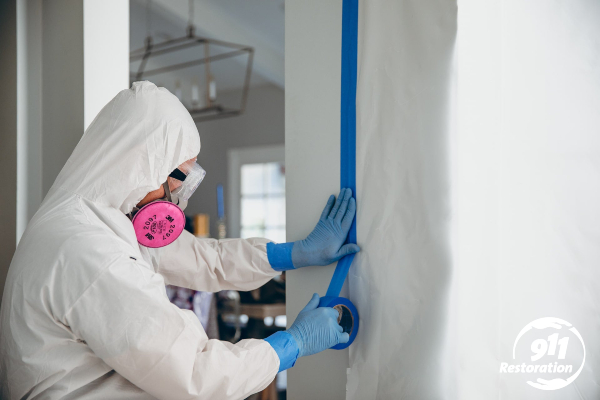 Our IICRC certified staff takes care of everything you need for a Fresh Start. They begin by addressing your most pressing needs with the highest urgency. Our workers move at top speed to handle water removal, sewage extraction, leak detection, structural drying, emergency boarding up, and more. They personally oversee storm repair and roof repair. Our water damage restoration service is designed to leave you with a property that feels brand new. We even inspect for mold and take care of any necessary mold remediation.
We lead with compassion. Our flood cleanup crew works with the goal of providing immediate peace of mind. They do this by communicating clearly and demonstrating genuine respect for your property. Water damage restoration service includes packing out and storing your belongings to keep them safe during cleanup. We offer a free visual inspection (for property owners only), clearly explaining the unique needs of your situation. Our flood cleanup professionals even walk you through the insurance process. They explain your coverage in clear terms, handle your claim for you, and bill your provider so you don't have to get involved. We provide all this assistance free of charge.
At 911 Restoration, we understand that your property is precious to you. We know how much work you've put into it and how devastating it is when you're struck by a pipe burst or dealing with a flooded basement. In any crisis, we're here to help. 
Call us now for residential and commercial water damage restoration in Gardena and throughout L.A.
Reliable Mold Removal After Water Damage
Mold development is common after any type of water invasion, whether you've had a pipe burst or a sewage backup. Fungus especially thrives in properties that have had a flooded basement. Mold spores love dark spaces and damp surfaces. Not to mention, concrete absorbs water like a sponge. When dampness rises to the surface, a mold infestation is all but inevitable.
This is why our flood cleanup crew is trained and certified in mold remediation. Our goal is to get out in front of a potential mold problem, saving you from serious damages down the line.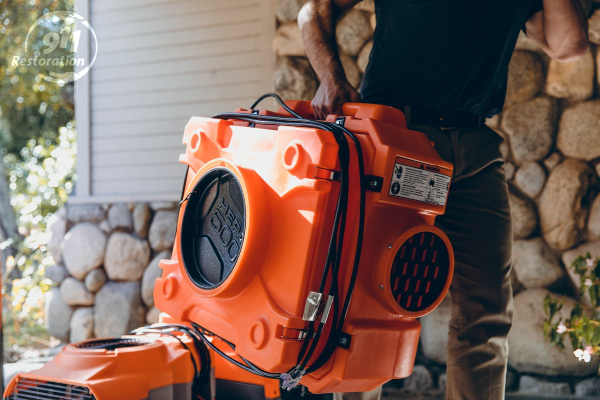 When it comes to mold remediation, you need a certified contractor you can trust. Mold is an insidious organism. Not only does fungi break down the material that holds your property together, it also poses serious health risks. Without prompt mold removal, an infestation fills the air you breathe with mycotoxins or other dangerous particles.
The stakes are too high to gamble on home remedies or an unreliable mold remediation contractor. Turn to 911 Restoration. Our mold removal workers are highly trained and provide a multi-step procedure to ensure decontamination is safe and lasting.
Our technicians begin with a thorough mold inspection to locate all patches of growth. Then, they conduct mold removal, careful to minimize the spread of spores and other particles. Once all the mold is gone, they dehumidify the structure using professional fans. Finally, they complete mold remediation with any necessary surface repairs.
Mold is a serious threat. But there is nothing to worry about as long as you have 911 Restoration on your side. Call today for mold removal in Gardena or the surrounding area
A Fresh Start After Fire Damage in Gardena
We hate seeing our neighbors in Gardena hurt by the devastation of fire and smoke damage. But we're proud to provide complete relief and a Fresh Start with full-service fire restoration.
When you're reeling from the nightmare of fire damage, take a deep breath and call our 24-hour fire cleanup crew. We send an expert out to provide a free fire damage assessment. During this consultation, you learn exactly what to expect during fire cleanup and smoke removal. They walk you through the process, the costs, and the timeline. Then, we invite you to sit down for a free fire restoration insurance consultation.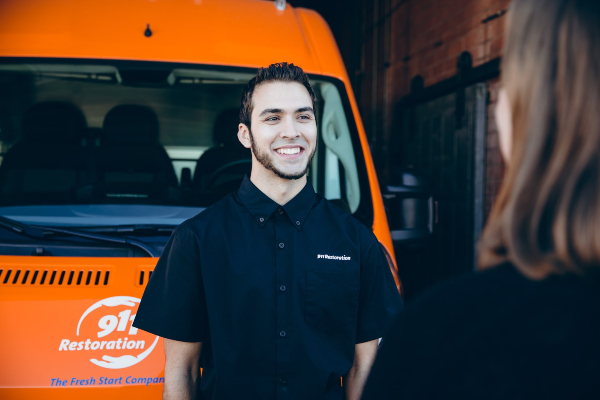 Our technicians take care of everything you need to feel at home in your house or business property again. This includes smoke damage cleanup for your dishes and furniture. Our fire cleanup crew uses the most modern techniques to handle smoke removal, including sodablasting. Our smoke damage cleanup services also address odors, so your property looks, feels, and smells fresh again.
You don't even have to seek out an additional contractor to handle property repairs. Our fire restoration crew replaces or rebuilds all fire damaged surfaces and structures. By the time our workers are finished, your property feels brand new.