Water Damage and Mold Removal in El Segundo
Even in sunny SoCal, water damage is an ever-present threat. From pipe bursts and flooded basements to storm damage and sewage backups, you never know when disaster will strike. But you do know this: whenever water damage hits, 911 Restoration of Los Angeles is here for you.
Our IICRC certified technicians provide 24-hour water damage restoration in addition to mold removal and fire cleanup. We're here for you 365 days a year, and we guarantee an arrival time of 45 minutes or less. Call us at 310-421-2014 and allow us to provide you with a free visual inspection.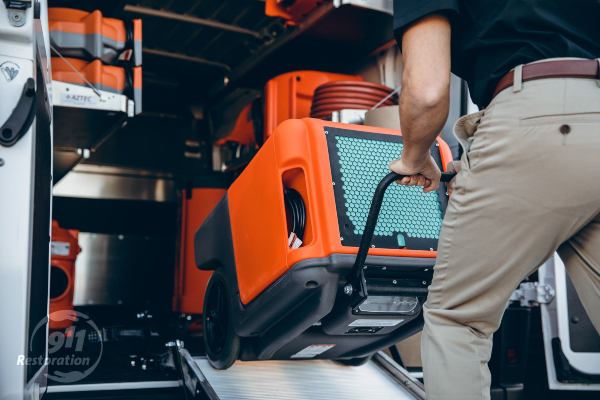 We offer every emergency flood cleanup service you could imagine, including:
Water removal

Sewage backup cleanup

Roof repair

Storm repair

Emergency boarding up

Leak detection

Packing out services

Structural drying and dehumidifying

And much more
Our flood cleanup crew services both residential and commercial properties throughout the Los Angeles area. They are trained experts in all aspects of water damage restoration, including structural repairs, mold inspection, and mold remediation. At 911 Restoration, we don't settle for basic flood cleanup. We leave you with a property that's stronger and cleaner than before, no matter what it takes.
If you're not sure whether your insurance provider covers water damage restoration, we find out for you. Join a flood damage expert for a free insurance consultation. They explain your policy, outlining your coverage for everything from water extraction to drywall replacement. They also assist with inventory and loss itemization. We file a claim on your behalf and bill your provider directly. You can expect this same help for other services like mold removal and fire restoration.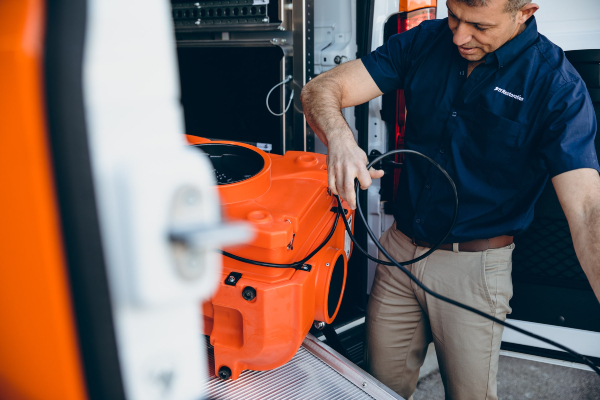 911 Restoration of Los Angeles is licensed, insured, and bonded. We are locally owned and operated, which means you have a caring neighbor overseeing your water damage restoration process. Our team provides comprehensive flood cleanup in El Segundo and throughout the region.
Whether you've been through a pipe burst or a sewage backup, your property can be the same after water damage. In fact, it can be better. Call 911 Restoration of Los Angeles for a Fresh Start, our number is 310-421-2014 and we are on stand by waiting to help.

Why You Need a Certified Mold Remediation Contractor
Our water damage restoration technicians always include a mold inspection with our flood cleanup service. Every water invasion presents mold spores with an opportunity to set up new colonies. If you've been through a pipe burst or flooded basement, you need a mold inspection.
It's important that you contact a certified mold removal contractor like 911 Restoration for all your fungus-related needs. You may have heard about home remedies for mold cleanup. The truth is, these methods are not truly effective. In fact, they can cost you more in the long run.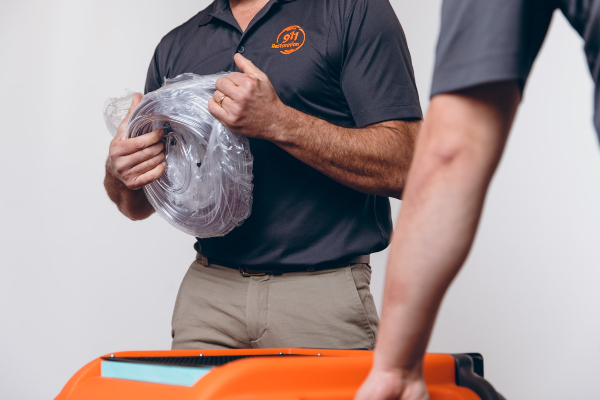 You need a multi-step process in order for mold removal to be complete and lasting. Our technicians begin with a thorough property inspection to ensure all existing colonies are identified and eliminated. If you as a property owner only scrub at the colony you see, you risk neglecting mold hidden in walls and down your pipes. 
We use the most advanced mold removal tools and techniques to ensure a safe decontamination process. Fungus releases dangerous particles. When you scrub at a growth, you put yourself into direct contact with the fungus and inevitably breathe these articles in. It's far safer to leave mold removal to the professionals, especially if you have black mold.
Finally, a certified mold remediation contractor comes prepared to take preventative measures against future infestations. We dehumidify the structure where mold grew. This prevents moisture from rising to the surface and welcoming a new infestation.
If you need mold removal in El Segundo, there's no reason to settle for a job half-done. Call 911 Restoration of Los Angeles at 310-421-2014.
Call Us for Full-Service Fire Cleanup in El Segundo
A property fire can leave you feeling stunned and helpless. Even a puffback or minor smoke damage turns your refuge into a contaminated zone. 911 Restoration of Los Angeles can turn the situation around quickly. Call our fire restoration and smoke removal team and look forward to a Fresh Start.
Our fire cleanup technicians are highly skilled in all smoke and fire restoration procedures. They provide:
Packing out and storing service for unharmed belongings

Smoke removal for dishes

Smoke removal for furniture

Sodablasting to clean ash, soot, and smoke damage

Permanent odor removal

Structural repairs

And much more
One unexpected aspect of fire cleanup is water damage restoration. It's common for the fire department to flood your property while fighting the flames. Our fire damage workers are all certified in flood cleanup and mold remediation. They dry your property and repair water damage quickly.
Throughout the fire restoration process, our staff works hard to make sure you're always informed and included. We also offer free informational services to help you find peace of mind in the midst of fire and smoke damage. This includes a free insurance consultation and a free fire damage assessment (for property owners only).
We understand this is a difficult time. But we know that a new beginning is waiting just around the corner. Call 911 Restoration of Los Angeles for quality fire damage restoration and smoke removal today. Our number is 310-421-2014 to see how we can help.