Water Damage Cerritos
The water damage Cerritos pros of 911 Restoration of Los Angeles know how to get your home back into pristine condition after it has been affected by a water leak.
With so many years of experience in the field, we understand how important it is to get the home cleared of water in a very short amount of time, which is why we arrive within 45 minutes, no matter what time you call.
Our offices are open around the clock, where water damage Cerritos crew are available 24/7/365 to take your calls and assist you with all water-related issues, such as:
Home Flooding

Pipe Burst

Roof and Ceiling Leak

Washing Machine Leakage

Water Heater Explosions

Fire Sprinkler Damage

Main Water Line Leaks

Ruptured Hoses

Toilet Overflow

Leaky Shower Pan

Ice Machine Malfunction Leak
Homeowners can trust that when they call us they will receive the services of licensed, bonded and insured pros who always offer same day services for emergencies involving water.
Our water damage Cerritos unit will use state of the art gear to clear every bit of moisture from the property, so call us today and we will get to work by conducting a free home inspection.
Water Damage Can Easily Effect Your Bathroom
Since water is constantly being used in the bathroom, it makes the room incredibly susceptible to experiencing moisture damage. With so much moisture and condensation accumulating in the area, homeowners need to know how to prevent this water from damaging the room.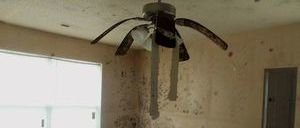 Our water damage Cerritos operation wants you to inspect the bathroom every three months, this way you will stay on top of any potential issues that may be occurring in this part of the home.
We will even help with the insurance paperwork in these events.
When you are looking for leaks, cracks, dampness and any other moisture, make sure you check the toilet, sinks, cabinets, bathtub, plumbing, shower and pipe joints.
This is a simple task that will save you hundred, and even thousands, of dollars in the long run, so call our water damage Cerritos techs to get the process started today.
We Take Pride In Providing You With Expert Water Damage Removal
For the homeowner, the main focus of every water damage situation is to repair the source of the leak or flood, but for our water damage Cerritos experts, our main concern is the customer.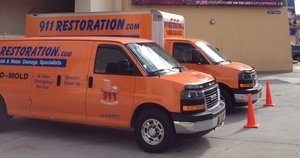 Ensuring that all our clients get the best customer service is important to us, and we will provide you with help with every aspect of the job, including financial assistance.
We are glad to help you understand your insurance policy, and we will even file your claim for you to make sure you get the coverage you deserve.
Our water damage Cerritos professionals want to be your one stop shop for all your water damage needs, including being your main support system throughout the entire ordeal.
We will give you the confidence you need to make it through this vulnerable time, so call our water damage Cerritos members of 911 Restoration of Los Angeles today!