Water Damage in Bell Gardens
Whether it's storm damage or a common property incident like a pipe burst or washing machine flood, a water damage incident throws a wrench in your day-to-day life. After you've done so much to keep up your residential or commercial property, it's aggravating to see your best efforts drowned in an unexpected disaster. Fortunately, if you need mold remediation or emergency flood cleanup in Bell Gardens or the surrounding area, help is one easy call away.
911 Restoration of Los Angeles serves the local communities with fast, thorough flood cleanup, mold inspection, and mold removal. That includes 24/7 availability for emergencies like pipe bursts, with a guaranteed arrival time of 45 minutes or less. The water damage restoration crew is staffed entirely with IICRC certified property restoration specialists. These experts are prepared to not only get rid of the water, but also to do whatever it takes to make your home or business feel brand new again. They even handle structural repairs, mold inspection, and mold decontamination.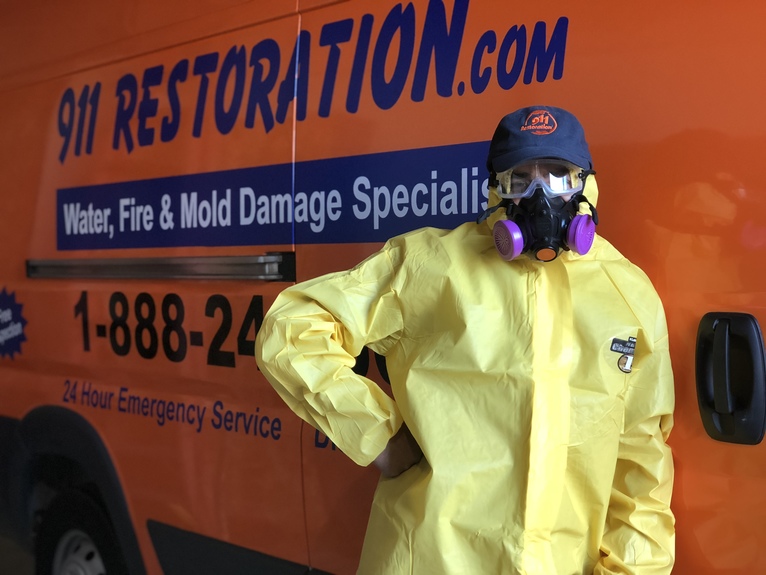 In addition to providing fast, comprehensive service, our water damage restoration experts do all they can to give you peace of mind. A pipe burst or other water disaster can leave you feeling vulnerable, and our staff is dedicated to earning your trust and demonstrating that a full recovery is not only possible; it's guaranteed. They communicate with you every step of the way, and they even provide a free insurance consultation so you go into flood cleanup well aware of which services are covered by your plan and which costs fall to you. Then, they file a claim on your behalf, ensuring you get all the coverage to which you are entitled, from sewage restoration to mold removal.
It's normal to feel overwhelmed after a water disaster. But you're not alone. Call 911 Restoration of Los Angeles today.
24-Hour Water Damage Restoration in Bell Gardens
When a pipe bursts in the middle of the night, you cannot afford to wait until the sun comes up for water removal. As harmless as water may be in other contexts, it can wreak havoc on your property, seeping into the structure to cause rotting, weakness, and mold development.
The water damage restoration staff at 911 Restoration care about providing immediate service, because we know a fast response can mean the difference between a quick recovery and costly renovations. We answer your call day or night, weekend or weekday. And we respond immediately, arriving at your home or business in no more than 45 minutes.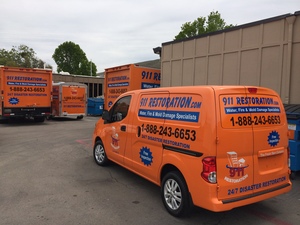 You can expect the flood cleanup crew to work with urgency, as well. They assess the situation quickly, noting any belongings that might be at risk of damage and packing out those items for safe keeping. Their first order of business is to eliminate the threat of water, whether that means boarding up, roof repair, or leak detection. They use specialized vacuums for water removal and sanitize the area after all moisture or sewage has been extracted. To prevent rotting and warping, they dehumidify the structure of your home or business. Then they inspect the property for any damages requiring repair. They fix every form of destruction so you don't have to seek out another contractor, and they even handle mold inspection and mold remediation.
Every one of these procedures is designed to provide you with a Fresh Start. The water damage restoration technicians want to do more for you than get rid of your water problem. They want to turn this disaster into an opportunity for a new beginning. You can count on them to address the cause of today's nightmare, provide comprehensive flood cleanup, and fully restore your property so it's as nice as the day you bought it.
A Certified Mold Restoration Company
Water damage always brings with it the risk of mold contamination. It's for this reason that the flood cleanup experts at 911 Restoration of Los Angeles are all certified in mold inspection and mold remediation. They don't want you to end up with a long-term mold problem as a result of today's disaster, so they conduct a complete mold inspection and personally tackle any infestation they discover.
Sometimes, property owners are tempted to forgo mold removal to save a few bucks. Unfortunately, this can cost them big in the long run. Mold spreads quickly and eats away at organic material such as wood, glue, wallpaper, and carpet fibers. Plus, most species are toxigenic, pathogenic, or allergenic. Translation: their presence in your home or business can lead to everything from asthma to heart problems if an infestation is left to thrive without mold removal from a certified mold remediation expert.
If you suspect you have an infestation, don't wait. Call the certified mold specialists at 911 Restoration for an inspection right away. The mold decontamination experts know how to handle mold removal effectively and safely, and our mold remediation techniques include preventative measures such as structural dehumidifying.
If you need mold remediation in Bell Gardens or a nearby community, don't wait another minute. Call 911 Restoration of Los Angeles for the sake of your health and your wallet.
Servicing the cities of Alhambra, Altadena, Arcadia, Avocado Heights, Azusa, Baldwin Park, Bell, Bell Gardens, Bellflower, Beverly Hills, Burbank, Calabasas, Canoga Park, Cerritos, Claremont, Commerce, Covina, Culver City, Cypress, Diamond Bar, Downey, Duarte, East Los Angeles, El Camino Village, El Monte, El Segundo, Encino, Florence-Graham, Gardena, Glendale, Glendora, Granada Hills, Hacienda Heights, Hawthorne, Hermosa Beach, Huntington Park, Inglewood, Irwindale, La Canada, La Mirada, La Puente, La Verne, Lakewood, Lawndale, Los Angeles, Lynwood, Malibu, Manhattan Beach, Marina del Rey, Maywood, Mission Hills, Monrovia, Montebello, Monterey Park, North Hills, North Hollywood, Northridge, Norwalk, Pacific Palisades, Pacoima, Panorama City, Paramount, Pasadena, Pico Rivera, Playa del Rey, Pomona, Porter Ranch, Reseda, Rowland Heights, San Dimas, San Fernando, San Gabriel, San Marino, Santa Fe Springs, Santa Monica, Sherman Oaks, Sierra Madre, South El Monte, South Gate, South Pasadena, South Whittier, Studio City, Sun Valley, Sunland-Tujunga, Sylmar, Tarzana, Temple City, Thousand Oaks, Tujunga, Topanga, Universal, Van Nuys, Valley Village, Venice, Walnut, West Covina, West Hills, West Hollywood, Whittier, Winnetka, Woodland Hills, and surrounding areas.