Water Damage and Mold Removal in Avocado Heights
Property owners in Avocado Heights have no reason to fear pipe bursts, flooded basements, or fires. 911 Restoration of Los Angeles is always here for you. We provide 24-hour emergency service, comprehensive cleanup and repairs, and true compassion. Our restoration crew gets you through this disaster and on to a Fresh Start quickly, safely, and affordably.
Call us at any hour of the day or night, 365 days a year. Our water damage restoration crew guarantees an arrival time of 45 minutes or less. No matter what type of disaster you're facing, you can trust our staff to provide swift service and work with your best interests in mind. They even pack out and store your belongings to prevent any additional damage during flood cleanup or smoke removal.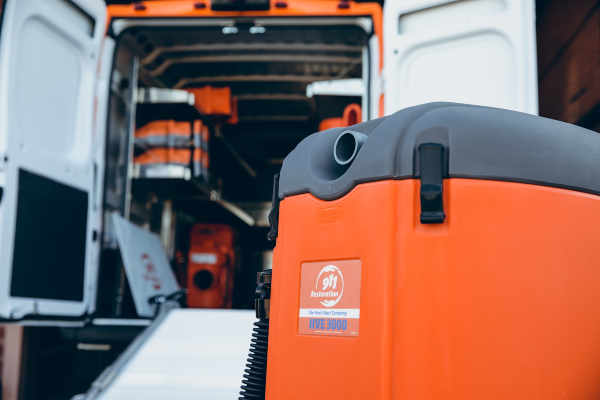 Our IICRC certified restoration crew provides water damage restoration, fire cleanup, and mold removal in Avocado Heights and throughout L.A. We serve both residential and commercial properties and work with all insurance providers. As a locally owned and operated business, we are eager to do all we can to provide relief to all our neighbors. 911 Restoration is insured, licensed, and bonded for your protection.
We know communication is key when it comes to the restoration process. When you call us for flood cleanup, fire restoration, or mold removal, you're placing your greatest asset in our hands. We take that responsibility seriously, and we work hard to earn your trust. Count on us for a free visual inspection (for property owners only). During this zero-obligation consultation, we take a look at your damage and offer clarity. 
You can also take advantage of our free insurance consultation. An expert on staff reviews your policy, explains your coverage, and assists with paperwork and filing a claim.
We serve you with compassion, because we're here to restore your property and your peace of mind.
For reliable, caring restoration in Avocado Heights and beyond, call 911 Restoration of Los Angeles.
Quality Water Damage Restoration in Avocado Heights
Anyone can bring a wet vac and blowers into your home or business. Only 911 Restoration offers a full recovery, quality service, and a Fresh Start.
Whether you've been through a pipe burst, flooded basement, or storm damage, our goal is to make your property sparkle again. We also work hard to make sure your new beginning comes with limited costs.
Our fast service plays a significant role in the quality of our water damage restoration process. The longer water remains on your property, the worse your damages will be. With 24-hour availability, a guaranteed 45-minute arrival time, and swift action on the scene, our flood cleanup crew helps avoid unnecessary damage. They even pack out and store your unharmed belongings for safekeeping.
Our emergency water damage restoration service includes a wide range of tasks, including:
Water removal

Sewage extraction

Emergency boarding up

Storm repair

Roof repair

Leak detection

Structural drying

Sanitization and disinfection

And much more
We believe flood cleanup should be thorough, resolving both the immediate problem and strengthening your property for the future. This is why we complete water damage restoration with structural testing, repairs, mold inspection, and mold remediation.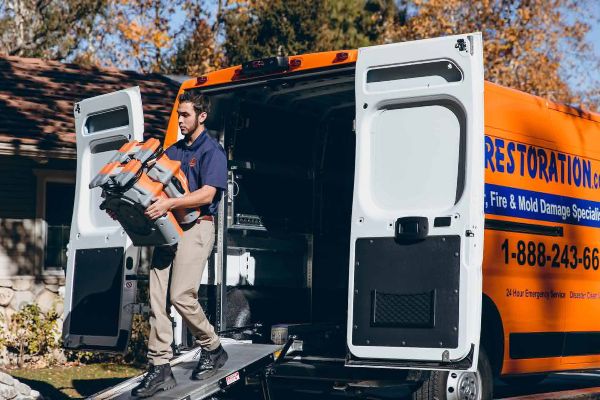 Mold often develops after a water incident of any size, from pipe bursts to wall leaks. Our flood cleanup technicians diligently examine your home or business for any traces of growth. They personally see to any needed mold removal and decontamination.
Sometimes property owners feel tempted to put off mold remediation or handle the issue themselves. Mold is a more serious problem than it may appear to be. Without immediate mold removal, a colony spreads quickly and eats away at the materials that hold your property together. Over time, this causes major damages that are often costly and could hurt the resale value of your home or business.
Fungus also releases dangerous particles into the air you breathe. If you need mold remediation, call our certified mold removal specialists and keep a safe distance from the area. Our experts eliminate the infestation safely and complete mold removal with structural dehumidifying. This reduces the risk of future growth.
From water damage restoration to mold remediation, call the company that puts you first. Reach out to 911 Restoration today.
What to do in the Event of Fire or Smoke Damage
A puffback or property fire can leave you feeling overwhelmed and lost. You may not know who to call or how to even begin to clean fire damage. Don't worry. 911 Restoration isn't just a fire cleanup contractor; we're also your fire information center. Call us right away and our fire damage experts will provide immediate clarity.
When you reach out, we send a fire restoration expert to your property for a free fire damage assessment (for property owners only). This is your opportunity to get a grip on your unique situation. Our expert explains the nature of your fire and smoke damage. They outline a strategy for recovery and walk you through the solutions. This is a no-obligation service designed to provide peace of mind and empower you to make the best decision for your property.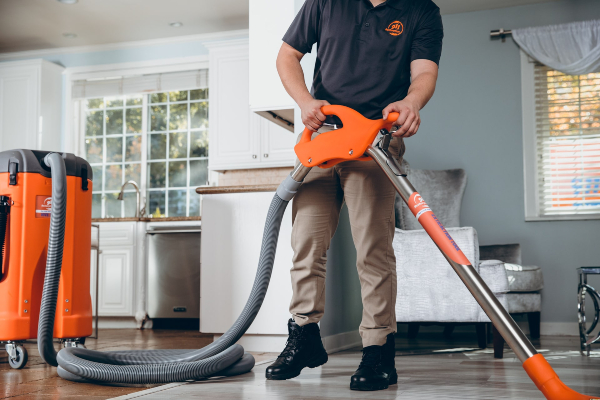 Our fire cleanup and smoke removal technicians cover a wide range of fire restoration services. They have completed rigorous training to make sure they can provide the right solutions in any disaster. Count on them for:
Sodablasting

Smoke removal for dishes and furniture

Permanent odor removal

Complete repairs for fire damage and smoke damage

Water damage restoration following firehose floods

And much more
At 911 Restoration of Los Angeles, smoke removal and fire cleanup is only part of what we do. Our ultimate goal is to leave you with a home or business that feels as fresh and strong as the day you moved in.
You deserve a Fresh Start. Call 911 Restoration for comprehensive fire restoration in Avocado Heights and the surrounding area.