Water Damage Arcadia
Whenever a leak is discovered in your home it is important to immediately call the water damage Arcadia staff at 911 Restoration Los Angeles.
You can literally call our water damage Arcadia technicians any time, because we keep service agents standing by and available 24/7/365 so they can get repair workers to your property right away.
Once we arrive on the scene we will implement same day services to remediate all causes of water damage, such as:
Burst Pipes

Washing machine overflow

Ruptured hoses

Leaky shower pan

Ice machine Malfunction

Flooding

Roof leaks

Sewage backups

Appliance malfunction

Water heater explosions
Even if you call us in the middle of the night you will get the same speedy response as you would get if you had called during regular business hours, getting crews to your home within 45 minutes or less, guaranteed.
To get the most reliable and qualified water cleanup service in southern California, call our water damage Arcadia agents with 911 Restoration Los Angeles today!
An Unmitigated Plumbing Issue Can Lead To Extensive Water Damage
Sometimes plumbing problems can be easy to notice, especially if a pipe burst sprays water into your kitchen or if a ruptured washing machine hose floods your laundry room, but there are others that are less obvious.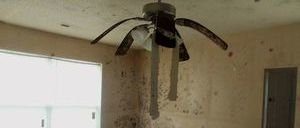 If you notice that there is dampness underneath your kitchen sink it may not seem like a big deal, but a slow leak that is left to drip water can cause issues all on their own.
The nice warm, wet environment that this leak can create under a sink can make the perfect home for mold to grow.
This is why it is so important to get our water damage Arcadia unit to your home the moment you find any unusual moisture on your property.
We want to prevent a mold infestation from affecting your home, and your family, so call us today and our water damage Arcadia techs will provide you with a free home inspection.
Let Us Take Care Of You During A Flooding Emergency
Along with combating the invasive moisture that has damaged your home, the main reason we want to get to your home so promptly after a water-related emergency is to ensure your emotional wellbeing.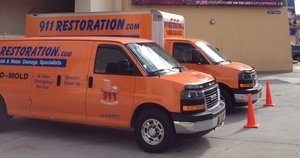 It can be very frustrating to learn that a seemingly avoidable situation is now going to require expert assistance and quite a bit of money.
However, with our water damage Arcadia specialists on the job, you can finally have peace of mind knowing that not only will we get the job done right, but we will do it at an affordable price.
We pride ourselves on offering some of the most competitive prices in the industry, and by always working with all insurance companies, big or small.
Our water damage Arcadia pros just want to make this whole ordeal as easy as possible, while being a shoulder to lean on from start to finish.
To get the best customer service and flood repair laborers in area, call our water damage Arcadia crew at 911 Restoration of Los Angeles today!