Water Damage and Mold Removal in Arcadia
Between the Botanic Garden and charming properties, Arcadia is one of the loveliest communities in Los Angeles. But life in Arcadia does come with a few downsides. Vulnerable to both wildfires and mudslides, local property owners always have their guard up. This doesn't even factor in run-of-the-mill incidents like pipe bursts, puffbacks, and sewage backups.
The good news is that 911 Restoration of Los Angeles is always here to care for our neighbors in Arcadia. You can reach out to us for restoration service 24 hours a day, every single day of the year. We even guarantee an arrival time of 45 minutes or less for your peace of mind. Call us at 310-421-2014 and allow us to provide a free visual inspection.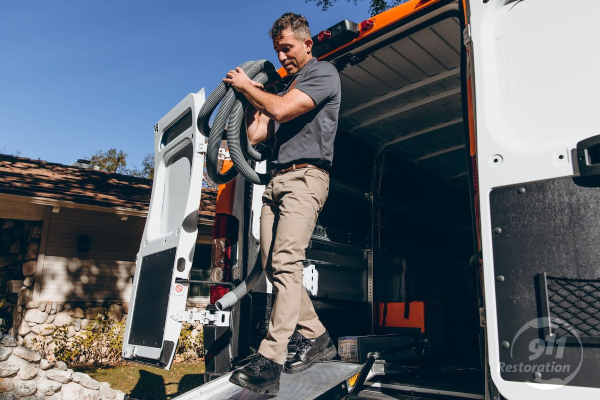 Our expert technicians provide mold removal, fire cleanup, and water damage restoration in Arcadia and the surrounding area. Every member of our IICRC certified staff is trained and equipped to ensure full-service restoration. This includes everything from the initial flood cleanup or smoke removal to extensive property repairs. When you call us, you can sit back and relax. There is no need to track down additional contractors or even worry about filing an insurance claim.
It's true. Our helpful staff files your claim for you and bills your provider directly. They also provide assistance with loss itemization and offer a free insurance consultation to help you make sense of your policy. 
We know your property is your greatest asset. Trust our crew to treat your home or business with the respect it deserves. They also offer you total transparency and clear communication so you feel seen and supported in this difficult time.
911 Restoration of Los Angeles is licensed, insured, bonded, and locally owned and operated. We are certified in both residential and commercial property restoration. Call us at 310-421-2014 and see how we can help.

If you need water damage restoration, smoke damage restoration, or mold remediation, call us today for a free visual inspection (for property owners only). 
Emergency Flood Cleanup in Any Disaster
From pipe bursts to flooded basements, count on 911 Restoration of Los Angeles for fast, quality water damage restoration.
Our flood repair crew arrives in 45 minutes or less, no matter where you are or what time you call. They move fast to pack out and store your unharmed belongings, board up your property, or begin water removal.
We provide emergency flood cleanup services for any disaster. Turn to us for storm repair, roof repair, leak detection, sewage extraction, and much more. Our water damage restoration technicians offer comprehensive solutions for your property. They eliminate the water, dry the structure, and sanitize the area as needed.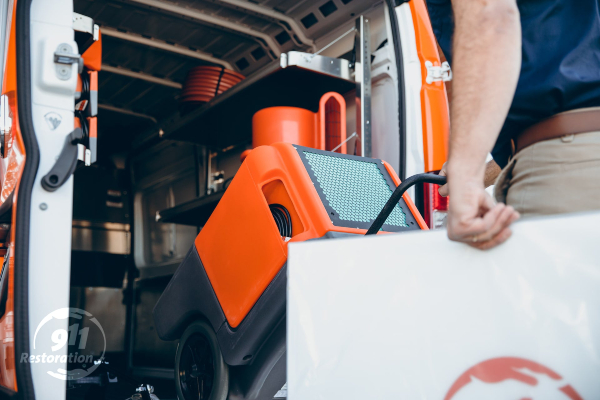 Then, our flood cleanup experts inspect for structure and surface damages. Whether you have stains, rotting floorboards, or weakened drywall, let our crew handle repairs for you. They make your home or business brand new again.
You can also trust our water damage restoration staff to protect you against long-term mold damage. They conduct an extensive mold inspection after your pipe burst, flooded basement, or any other water damage event. If they find any growth, they manage mold removal using safe procedures and cutting edge tools. 
Many property owners wonder if they can tackle mold remediation themselves using bleach or carpet steaming. These methods are ineffective and do nothing to address the root of your mold problem. Our certified mold removal professionals ensure lasting protection for your property by inspecting for every trace of growth before they begin mold remediation. This ensures no colony is left behind to reproduce and spread. These experts also dehumidify the site of the infestation, leaving you with a dry structure that is inhospitable to mold spores. 
Do-it-yourself mold removal only costs more in the long-run. Guard your property and your health against fungus by turning to our certified mold remediation specialists.
Call us today for flood cleanup and mold removal in Arcadia. Our phone number is 310-421-2014.

Reliable Fire Restoration in Arcadia
Smoke and fire damage can make your refuge feel contaminated and unfamiliar. Our extensive fire restoration and smoke removal services make your property feel like your own again.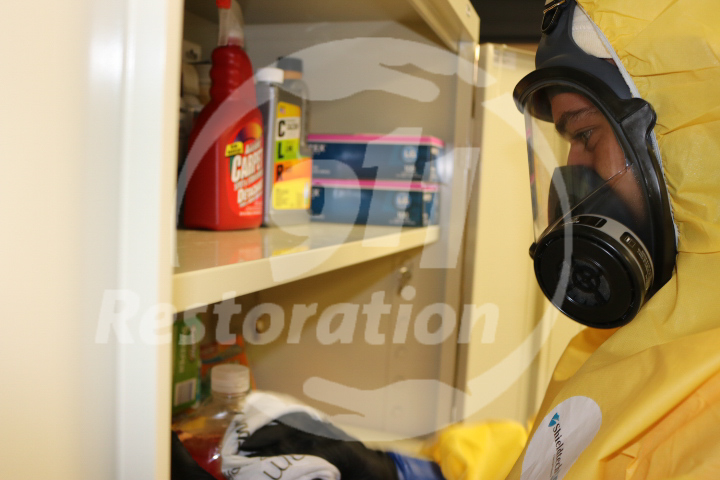 We offer everything you need for a Fresh Start. No matter how major or minor your smoke damage is, we're here for you. Call us for extensive fire restoration, puffback cleanup, and even odor and smoke removal for spaces contaminated by cigarette smoke.
Our fire cleanup technicians use a wide range of services to address your unique needs. They use sodablasting for soot and smoke removal on large surfaces. They clean smoke damage from dishes and furniture. Our fire damage team provides permanent odor removal. They even tackle major repairs from your roof to your carpet.
Along the way, they do everything possible to minimize your damages and expenses. This includes packing out and storing your at-risk belongings for safe-keeping during fire cleanup. Count on our fire damage experts for clear communication and answers to all your fire restoration questions. Consider 911 Restoration of Los Angeles your fire information center.
We know this is a devastating time. As far as we're concerned, our job is to help you get through it with as little struggle and stress as possible. Call us at 310-421-2014.