Types of Water Damage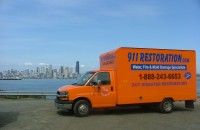 Water damage is a nightmare for many homeowners. Most of them don't even realize the amount of damage water can cause until after a disaster. There are different types of water damage, all with varying degrees of severity.
Black water damage is by far the most severe. This type of damage involves water that is highly contaminated. The water contains dangerous contaminates, such as pesticides, fungi, bacteria or worse. In most cases, black water damage is the result of sewage damage or a natural flood disaster.
The contamination in black water can cause sickness for humans and animals. This is why it requires professional water cleanup. If black water is in your home, then you should speak with a water damage restoration professional as soon as possible.
Gray water damage is slightly less dangerous. The water is not pure, but is not contaminated to the extent of black water. For example, toilet overflow or overflow from a washing machine is considered gray water.
Clean water is the least dangerous type of water damage. Clean water is not contaminated, and will not make you sick. Rain leaks from your roof or water heater leaks are examples of clean water.
The biggest threat with clean water is when drying doesn't occur in a timely manner. If an area remains wet for too long, then mold and fungus growth can occur.