Sanitization and Disinfection Solutions in LA
The current coronavirus pandemic creates unprecedented challenges for home and business owners alike. Our community in Los Angeles has already taken bold measures in an attempt to slow the spread of coronavirus. But even with essential social distancing practices in place, limiting contagion in L.A. is no small task. Between the dense population and the continued need for essential services, no individual can isolate themselves entirely.
This is why thorough covid 19 cleaning services in L.A are of the utmost importance.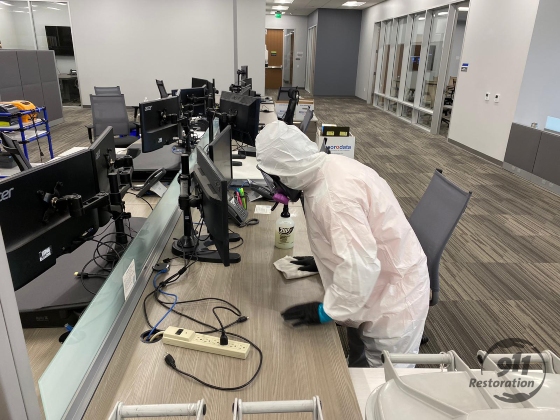 Homeowners must always bear in mind that each time a member of the household ventures into the community, they risk bringing coronavirus home with them. If this happens, you may not be aware of it for several days. According to the CDC, some individuals exposed to the virus do not exhibit symptoms for as many as 14 days. If any member of your family is elderly or has a pre-existing medical condition, you must be especially vigilant. These vulnerable people are at increased risk of becoming seriously or fatally ill if they contract coronavirus.
If you know or believe that someone in your home has been sick with coronavirus, you must sanitize and disinfect your property. The virus can live on certain surfaces for up to three days. Please do not count on time to eliminate the threat of contagion. To protect yourself and your neighbors, clean your home thoroughly.
Sanitization is absolutely crucial for business properties. Whether you own a retail store, an office space, or any other commercial facility, your space brings many members of the public together. Do not wait to find out that your property has been exposed to coronavirus. Take measures today to deep clean your facility.
911 Restoration of Los Angeles provides professional sanitization and disinfection solutions throughout the Greater L.A. area. We service both residential and commercial properties with thorough cleaning. Our teams are trained to follow CDC and EPA protocols. As a locally owned and operated business, we take great pride in the Los Angeles community. We are eager to help our neighbors find reassurance in an uncertain time. And we are driven to help business owners provide peace of mind to their worried customers. When our local businesses thrive, we all thrive.
Times may be hard, but they won't be hard forever. Like you, we are determined to do everything necessary to get through this current challenge and on to a Fresh Start. If you need covid 19 cleaning services in Los Angeles, call 911 Restoration today.