Water Damage in Sun Valley
From pipe bursts to sewage backups to mudslides, make 911 Restoration of Los Angeles your first and only call for flood cleanup in Sun Valley and the surrounding area. 
The IICRC certified water damage restoration crew at 911 Restoration is available at a moment's notice. You can call them at any hour of the day or night, even on weekends and holidays. No matter when your call comes in, our dedicated flood cleanup crew will rush to the scene, arriving in 45 minutes or less, guaranteed. 
Every member of our water damage restoration staff has undergone rigorous training to provide top service to property owners in Sun Valley and beyond. They are personally invested in the quality of life in the community, and they take your best interests to heart when disaster strikes. They do whatever it takes to restore your home or business, including structural repairs, mold inspection, and mold remediation.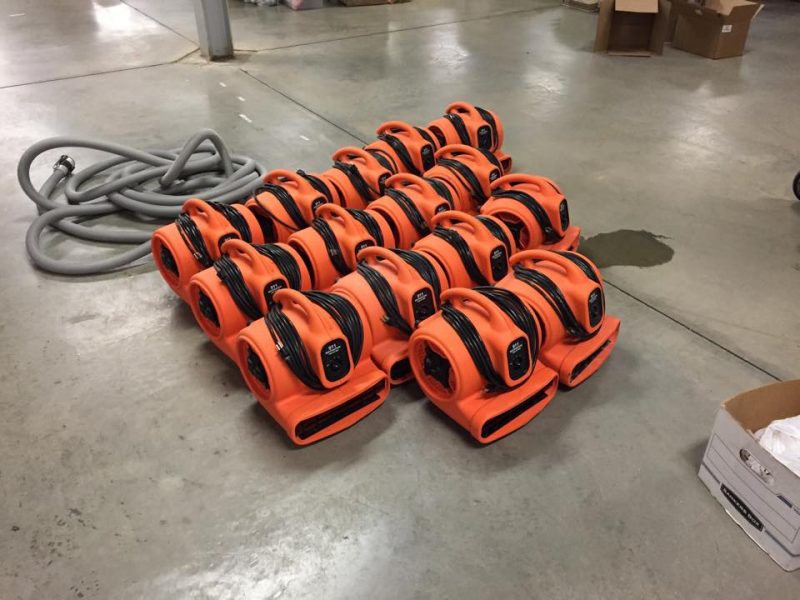 Our flood cleanup workers want you to get through this ordeal with as little stress as possible. That's why they communicate clearly every step of the way, so you never feel left in the dark or worried that you're receiving services you don't need. They work with all types of insurance and even provide a free insurance consultation so you don't have to wade through the complicated details of your policy alone. A water damage restoration expert will take a look at your plan and explain which services your provider is responsible for, from sewage extraction to mold decontamination. If a pipe burst or other disaster leads to additional losses, the staff member will also assist with loss itemization. Then, they file your claim for you so you don't have to give it another thought.
Whether it's a run-of-the-mill pipe burst or a shocking natural disaster, 911 Restoration of Los Angeles has you covered. Call now for fast, reliable service.
Compassionate Water Damage Restoration in Sun Valley
When the flood cleanup technicians at 911 Restoration head out to do a job, they're not thinking about performing a series of water removal tasks. They're thinking about helping a neighbor through a crisis and giving them a Fresh Start with comprehensive property restoration.
After years of handling flood cleanup and mold remediation in Sun Valley, these technicians know exactly what you're going through. They know how much of yourself you've put into making your home or business the beautiful place it is, and they're determined to make that property even better than before. They work quickly to address your most urgent needs, whether that's boarding up, storm repair, roof repair, sewage extraction, packing out at-risk items, or anything else. They use wet vacs to get the water out as quickly as possible. They dry the property using professional-grade fans. But even beyond these most urgent services, they still ask themselves what it will take to make your home or business the refuge it once was.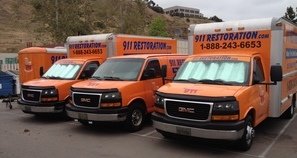 If your roof is wrecked, your drywall is destroyed, or your floorboards are warped, the flood cleanup crew takes care of any repairs needed. They also conduct structural testing to make sure your pipe burst flooding hasn't compromised the structure of your home or business. It's extremely common for a water incident to lead to mold contamination, so the water damage restoration crew also handles mold inspection and—if necessary—mold remediation.
When all is said and done, your dedicated flood cleanup experts will have done far more than solve a problem. They will have provided you with the Fresh Start you deserve.
Sound perfect? Then call 911 Restoration of Los Angeles today.
A Certified Mold Specialist Near You
Do you suspect you have a mold infestation? Do you see mold on the walls, growing in plain sight?
Either way, your best bet is to call a certified mold inspection and mold remediation contractor like 911 Restoration right away. Even if you know where the colony is growing and you've been advised that you can tackle it with a bottle of bleach, it's in your best interest to reach out to a professional for mold and fungus removal. The certified mold remediation staff conduct a comprehensive mold inspection to make sure the visible colony hasn't spawned other growths hidden out of sight, behind walls or on sheetrock. 
It is also safer for you to stay away from an infestation and leave mold remediation to the professionals. Even if you don't have black mold on your walls or anywhere else in your home, most species of mold at least possess pathogenic or allergenic properties. This means that they are not quite as dangerous as toxigenic black mold, but they can cause allergies, asthma, or even serious diseases in individuals with compromised immune systems.
To keep your family, your colleagues, your customers, and yourself safe, stay away from the colony and bring in 911 Restoration to handle mold removal. Our experts know how to conduct mold decontamination safely and effectively. They also conclude mold removal with preventative services such as structural dehumidifying. This keeps you safe from a recurring infestation.
When your health and safety are on the line, count on the mold remediation specialists that are driven first and foremost by customer well-being. Call 911 Restoration of Los Angeles.
Servicing the cities of Alhambra, Altadena, Arcadia, Avocado Heights, Azusa, Baldwin Park, Bell, Bell Gardens, Bellflower, Beverly Hills, Burbank, Calabasas, Canoga Park, Cerritos, Claremont, Commerce, Covina, Culver City, Cypress, Diamond Bar, Downey, Duarte, East Los Angeles, El Camino Village, El Monte, El Segundo, Encino, Florence-Graham, Gardena, Glendale, Glendora, Granada Hills, Hacienda Heights, Hawthorne, Hermosa Beach, Huntington Park, Inglewood, Irwindale, La Canada, La Mirada, La Puente, La Verne, Lakewood, Lawndale, Los Angeles, Lynwood, Malibu, Manhattan Beach, Marina del Rey, Maywood, Mission Hills, Monrovia, Montebello, Monterey Park, North Hills, North Hollywood, Northridge, Norwalk, Pacific Palisades, Pacoima, Panorama City, Paramount, Pasadena, Pico Rivera, Playa del Rey, Pomona, Porter Ranch, Reseda, Rowland Heights, San Dimas, San Fernando, San Gabriel, San Marino, Santa Fe Springs, Santa Monica, Sherman Oaks, Sierra Madre, South El Monte, South Gate, South Pasadena, South Whittier, Studio City, Sun Valley, Sunland-Tujunga, Sylmar, Tarzana, Temple City, Thousand Oaks, Tujunga, Topanga, Universal, Van Nuys, Valley Village, Venice, Walnut, West Covina, West Hills, West Hollywood, Whittier, Winnetka, Woodland Hills, and surrounding areas.