Water Damage Los Angeles: Don't Be Clueless About Water Damage
When water damage strikes, it can strike hard and fast.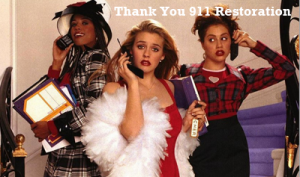 Many homeowners don't know where to turn to and often let water seep into the home's interior. This leads to mildew, bacteria, E Coli and any other harmful material you can think of. The structural integrity of your home and your health may become severely damaged. If you notice rotting at home or have had a burst pipe, contact 911 Restoration Los Angeles to remedy the problem.
Check the Pipes
Los Angeles has a reputation for being a city of glamour and actors which may be true. However, this doesn't mean that even celebrities can't check their pipes. Even for those living in 90210, you still need to check your plumbing. Many homes in Los Angeles are older, having a historical architecture with a Spanish touch. It's especially important for homeowners in Los Angles to inspect these older pipes. If you need immediate help, 911 Restoration can provide you with a free inspection.
Dry those Floors
Trying to keep the original hardwood, moulding, tile floor, etc., intact can pose a challenge. But there's nothing more challenging than trying to restore it after severe rotting. When water hits any type of hardwood, rotting begins almost immediately. Perhaps your toilet overflowed or a pipe burst in your bathroom, the water that seeps into the tile will grow into mold. When you notice black spots, that's when you have a major problem. Seek professional help from our water damage Los Angeles team where will use industrial strength chemicals to completely wipe out any water damage in your home.
A Slow Leak is a Big Problem
A huge dilemma homeowners run into are leaks. A leak happens slowly and over the course of time so generally it gets fixed until it's too late. When you hear a pipe leaking, the constant dripping is not only annoying but the water will build up on the floor. Whether the puddle of water looks small, it is sure to expand over time. It may seem like something you can throw a towel over but again, the water will contaminate the floor. Since water flows it is bound to get in baseboards and hit bathroom vanities. Make sure to always call 911 Restoration Los Angeles at the first sign of water damage.