How to prevent water damage in your house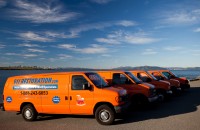 There are a few ways to prevent water damage in a home. First, regularly check roofs, windows, doors, pipes, and drains for any cracking, brittleness, broken parts, and leaking areas. Second, hire a contractor to do preventative maintenance on water heaters, furnaces, drains, and plumbing. Third, fix any leaks or possible damage immediately for the best water damage prevention. Using these simple tips can help homeowners save a lot of money, time, and hassle.
Doors and windows should be checked for proper sealing and weatherproofing. Any broken or cracked sashes or windows should be replaced. Missing weatherstripping should be reapplied immediately. Brittle or cracking caulk should be scraped out and replaced with new caulk. A good tip is if one window or door needs caulked; the others are susceptible as well. Sometimes a minor water leak or improper adhesion can cause caulk to fail but usually age is the culprit. Pipes and drains should be checked for cracks, broken parts, leaks, and mold. If any of these things are found it is best to have a professional come out to assess the situation.
Hiring a contractor to conduct preventative maintenance is one of the best things that a homeowner can do to protect their investment. The small price that it costs to maintain yearly maintenance on a home is a lot cheaper than paying the price of damage left untouched. Professionals can troubleshoot, investigate, and complete water damage restoration in Los Angeles as needed before small problems become worse.
Water damage and water damage restoration services in Los Angeles should be completed as soon as a problem is found. This keeps the problem from growing larger and causing more money and work to fix. A professional water restoration service can help homeowners complete water damage assessments and conduct water damage removal, water damage cleanup, and water damage restoration. Water damage costs money to fix but jobs that are left alone can cost homeowners exponentially higher amounts of money.