Plumbing Leak Repair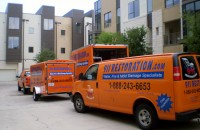 You come home from a night of gallivanting around town to find that your kitchen has been turned into a swimming pool. Wait! Stop right there! I see this problem time and time again. Oftentimes it is due to a pipe burst or the dishwasher leaking. In all situations, you need to call a plumber immediately. This reduces the risk of water damage becoming worse. Mold can start forming as quickly as 24 hours. The longer you put off hiring a plumber, the more the damage is going to stack up.
Plumbing leaks are a common problem, and water mitigation requires a skilled plumber. You have to be careful walking into water anywhere. If you even suspect that the water has reached an electrical outlet, do not go near the water. You can be hurt or even killed going into electrically charged water. Instead, call a plumber immediately and they can ensure that the water damage restoration process is simple.
As plumbers, we can also help you with our restoration services. When water gets into the carpets, this can be a ripe situation for mold to form if the carpet is not completely dried out. Carpets dry out, but they might not be drying out fast enough. I have equipment that can make water removal much easier. If you are suffering from water damage, then you need a plumber's assistance immediately.