Fires Rage in Southern California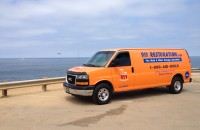 This month has been difficult for residents in Southern California who have had to evacuate due to fires raging in the southern portion of the state. Crews have reported nearly a dozen fires in San Diego Country, and Governor Brown declared an official state of emergency in the area. While Los Angeles seems like a safe distance away from the flames, we're experiencing the same drought conditions as our neighbors to the south and also are at risk as wildfire season begins.
Where Were the Fires?
Over the past few weeks fires have consumed 10,000 acres and many more residents have had to leave their homes behind as the fires burned close to roads and residential areas. In San Marcos alone over 20,000 residents were evacuated. The fire started Wednesday afternoon and raged for hours. In the morning crews were unable to contain the fire, which had already destroyed three homes. Fires also burned 6,000 acres near Marine base Camp Pendleton. The suburb of Carlsbad was also experiencing a fire at the same time, the nature of which had the local fire chief perplexed. Fire Chief Michael Davis said he had never seen anything like it in his career. Here in Los Angeles, we lent a hand by sending firefighters and trucks down to San Diego to help with the emergency efforts.
What Damage Did the Fires Cause?
Smoke from the fires spread out of San Diego County, and fires have also damaged power and phone lines causing facilities such as theme park LEGOLAND California to shut down temporarily. Acidic smoke and soot can also damage a home even if it doesn't catch on fire. This is why it's so important to purchase insurance that covers fire damage. Even efforts taken by fire crews to contain flames can damage your home. San Diego citizens are, unfortunately, going to have to deal with this when they return to their homes — if there's anything left to return to. You're not alone if you're wondering whether all these fires are coincidences. While wildfires are common in Southern California during the summer months, authorities have started investigations to determine whether any of these fires did not start naturally.
What Can You Do to Protect Against Fire?
There was little that California residents could do to prevent these fires. However, you can avoid typical home fires by never leaving your oven, cooking appliances candles or other flames unattended. Homeowners in San Diego had little time to collect their children, pets and belongings during evacuation. In some cases, their homes are a total loss. If you ever have the misfortune of experiencing a fire in your home, you're going to need professional fire damage restoration services to remove all of the soot and ashy debris. Odor remediation is also necessary because the terrible smoky smell can last for a long time without advanced techniques employed to remove it. With wildfire season off to a scary start, make sure you stay as safe as possible. Listen to evacuation orders if a fire makes its way towards your home.