Dangerous Mudslides (and I Don't Mean the Tasty Cocktail)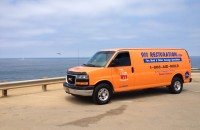 I worry about friends who live in areas prone to mudslides. When the conditions are right, or in this case wrong, mountains of wet and sticky mud can pour onto your property. Homeowners have to contend with the messy aftermath and damage.
After the recent heavy Los Angeles area rainstorms, too many people discovered that they weren't adequately covered by their home owners insurance in the aftermath of a mud slide. Here is what you must know when you live in mudslide central.
Geography and Weather Conditions that Trigger Mudslides
The danger of mudslides increases during dry spells. When vegetation is scarce and the ground is parched, a sudden heavy rainstorm drives water deep into the ground and produces a heavy dirt and water mixture that slides until the built up potential energy is lost.
There are two major factors that significantly increase risk – the degree of slant in the surrounding hills and recent fires in these areas:
Steep surrounding hills provide the momentum which leads to higher overall energy levels capable of creating a major slide.
After a fire, ground vegetation becomes more sparse which depletes the amount of water storage within the soil itself.
In a nutshell, less vegetation means that the steeply sloped ground is less stable. Both of these conditions make it more difficult to obtain the necessary insurance at a more affordable cost.
Finding the Right Insurance Protection Against Mudslides
Homeowners have home insurance policies but those policies won't necessarily protect against the damage caused by a mudslide. Check your existing policy for these two types of exclusions.
General exclusions that refer to earth movements. Earth movements include earthquakes, mudslides, and landslides, as well as other catastrophic events.
Specific exclusions that require owner action in order to prevent further loss after an initial loss occurs. For example, the initial loss may be a fire that occurs in the region above your house. That fire does not have to be on your property. In this case, the home owners must act to prevent further damage that might occur if a mudslide happens because of that fire.
There is one more important thing to keep in mind when looking at your insurance package. Mudslides are divided into two distinct types: wet mud and caked mud. Flood insurance covers restoration due to water damage and large deposits of mud on your property but does not cover the drier, caked deposits. I strongly advise you to have a long talk with your insurance agent if you live in an area of California affected by mudslides.
Mudslide Clean Up
After a mudslide, you'll need to work on mud removal. Mud deposits can be extremely thick and may require heavy equipment. The single most important thing is to act quickly to prevent water damage. Wet mud will retain moisture for long periods of time, even in a dry climate and structural problems within your home can quickly appear. Get professional help fast if you have mud and associated water damage on your property.