About 911 Restoration Los Angeles
Meet the Owner:
Zack Cohen, the owner of 911 Restoration Los Angeles loves this city, and all of the people who make it such an incredible place to live in and raise a family from. Beyond loving the challenges of the restoration business, Zack is mostly excited by the opportunity to make a difference in people's lives every day with his work.
"Giving people back the home that they have spent so much time building up and personalizing is a true pleasure," Zack says of his work.
His skills with the necessities of the industry are astounding, but more than that, his dedication to customer satisfaction is what separates Zack and his crews from all of the other companies out there.
"It's an honor when people choose us to take care of their home," Zack explains, "It means we're trusted to take care of everything including the homeowner, and our reputation precedes us."
Zack is known around town as being not only a restoration expert, but also just a generally great guy. He goes above and beyond to make sure that his customers are well taken care of, and never lack for anything when they get their home back after the repairs.
"Taking care of people isn't just another aspect of the job, it's the most important part." Zack says.
Proven Prevention Provider
The staff at 911 Restoration Los Angeles receive calls regularly from people who simply want advice on what to do about certain restoration related questions they are having.
This ranges from simple ones about how to stop a toilet overflow, to more complicated ones about the dangers of a sewage backup and category three water exposure.
Zack answers all the calls he gets with the same happy smile he brings to his job sites, for one simple reason – he likes to help people no matter what.
That being said, if you are having a restoration related question, and you want some expert advice on it, here is some from Zack on how to prevent water damage restoration from being necessary in the first place.
"Many water damage restoration situations can be averted by simply checking the hoses that run to your water-connected appliances," Zack relates. After a few years these will begin to corrode and fracture. It's at this point that they can become true water damage hazards.
Additionally water heaters and the pipes connected to them do not have an infinite lifespan. In fact, most water heaters, dishwashers and even washing machines all have plastic parts and fittings. Plastic becomes brittle and less flexible over time which may engender a split, rupture, or crack that then creates a water damage situation.
Specialist Shoulder to Cry On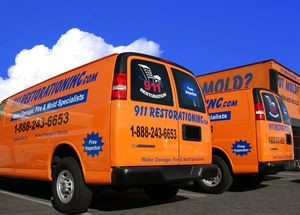 Throughout the years Zack has accomplished all manner of water damage restoration work and services.
During his time in the field, he has managed to walk homeowners through everything, even including relocation from their event.
On one occasion Zack sat down with a homeowner who then just simply began crying. As it turns out, the water damage situation that happened, while not ideal, actually made this homeowner's life much more livable.
Before the washer line burst and sent gallon upon gallon floating through the entire first floor, the house was disturbingly dirty and virtually unlivable from a sanitary perspective.
The homeowner had even stopped returning home after work due to the unlivable conditions that the house had deteriorated into. After Zack and his crew went through and cleaned everything after the water damage the whole house became beautiful and livable again.
When the homeowner realized that they didn't need to avoid their own home, they simply started crying in front of Zack because they were so thankful.
"It may not seem like it at first, but almost every time we can make great things happen after a water damage event," Zack says, "and when the house is better than before, it makes you wonder if it was meant to happen."
If you're experiencing a water damage issue, and you want Zack to come over and make it look better than ever, then contact the experts with 911 Restoration Los Angeles today!